Natasha Bedingfield
Brit pop singer and sister of Daniel Bedingfield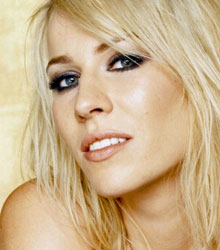 About
Natasha Bedingfield was born on November 26, 1981, in Lewisham, south east London. The daughter of two New Zealand-born social workers, Natasha grew up alongside three siblings: Daniel, Nikola and Joshua. While she is close to all of them today, her and the eldest sibling, Daniel, were rivals growing up.

Natasha showed an interest in music from an early age. Daniel and younger sister Nikola shared Natasha's passion, and the three Bedingfields formed their own group, the DNA Algorithm, when they were teenagers. But for Natasha, music remained a hobby at first. Torn between pursuing art or psychology studies in college, Natasha settled on psychology.

After two years of balancing college work and music, Natasha withdrew from university in order to write songs full-time. Honing her skills on guitar and piano, Natasha wrote songs and recorded in friends' studios in the hopes of building up a body of work that she could take to a record company. In the meantime, her brother Daniel became a pop star, and Natasha, mindful of her own talents, was encouraged by his example and industry contacts.

Natasha has waited on the sidelines before launching herself as she didn't want to be manufactured like so many other pop stars. Once she was ready, Natasha took her demos to Phonogenic, an imprint of BMG. The record company was impressed by both her music and her unique attitude, and signed Natasha up. She next went to Los Angeles for six months of writing and recording with some of pop music's top writing talents who produced Christina Aguilera, Kelly Rowland and Janet Jackson.

Natasha's debut was ready in the spring of 2004. Her first single, called 'Single', climbed the UK charts, as did her second single, 'These Words'. Natasha wrote her third single, the inspirational 'Unwritten', for her younger brother Joshua's 14th birthday. That September, Natasha released her debut album, Unwritten. The album entered the charts at No. 1, only the third debut album of a solo female to do so. By October of 2004, Unwritten had gone platinum.

After such an impressive debut, Natasha was in high demand and raking in critical accolades. She was nominated for Best UK & Ireland act at the 2004 MTV Europe Music Awards. Natasha has co-written all the material on her album and claims her studies in psychology have made her a better songwriter as she is more in touch with human emotions. Her fresh sound will undoubtedly see her remain at the top of the charts and in the public conscious.

Natasha and Daniel Bedingfield are listed in the Guinness Book of World Records as the only brother and sister to have separate solo No. 1 hits in the United Kingdom.
Tags for Natasha Bedingfield
You may also be interested in...