Natasha Baker
Para-Equestrian Olympic gold medalist (London 2012)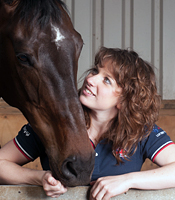 About
Natasha Baker contracted Transverse Myelitis at 14 months old, a neurological disorder which interrupts communication between nerves in the spine and the rest of the body. Natasha was left with weakness and no feeling in her legs.

Although initially introduced to riding by her mum, who rode competitively, it was in fact Natasha's physio who suggested riding would be good therapy to help her walk and hence introduced them to their local Riding for the Disabled Association; a Charity that Natasha is now heavily involved in. Natasha learnt to control the horse by speaking to them and through small movements in her saddle.

Aged just 9 years old, Natasha Baker won the RDA National Championships and her desire to one day be on the podium was fuelled by watching the Sydney 2000 Paralympics. In 2002, she was talent spotted for the World Class Programme. Natasha won a number of International competitions throughout 2005 and this success continued.

In 2007 Natasha and her horse 'Woody' were selected for the FEI World Para Dressage as a non-medallist to gain selection for the 2008 Beijing Paralympics. Unfortunately the day before final selection her horse went lame, ruling her out of competing in her first Paralympic Games. Her progression and knowledge of the discipline is second to none and this has been helped through training with Emile Faurie and Sacha Hamilton. 2011 saw a year of success where Natasha and her horse 'JP' were not only unbeaten internationally but won two gold medals at the European Championships and two National titles, a phenomenal achievement for both.

2012 was no different and being selected to represent Team GB was a dream come true. At the games Natasha excelled, achieving 3 personal bests, 2 Paralympic records and 2 Gold medals, throwing her into the realm of Paralympic legends.

Natasha Baker was awarded an MBE by the Queen in 2013 for services to Equestrianism.
Testimonials
As a business leader I have seen my team gain great insight into what it takes to be best in class from working with Natasha, so not only is Natasha inspiring a generation of athletes but also a generation of business professionals. I would recommend any business which is aiming to out compete its rivals to work with Natasha and learn from her outstanding achievements.
Thank you for your superb presentation to the National Equine Forum. Many of the delegates have told me it was the highlight of the day, and that you managed to impart a sense of modesty and yet determination in the face of difficulty, with enthusiasm and ambition. The overall effect was one of great inspiration
You may also be interested in...