Natalie Lowe
Strictly Come Dancing professional, choreographer and performance coach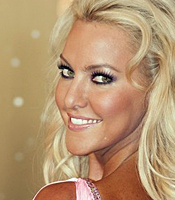 About
London-based Australian dance professional Natalie Lowe discovered her passion for ballroom and Latin dancing at the tender age of 5; winning endless championships and travelling abroad Natalie represented Australia in Taiwan by the age of 8. Natalie continued to train, perform and dance throughout her schooling years and continued to shine on and off the dance floor.

Having grown up in Sydney, Natalie's love for outdoor sports and activities has helped define who she is today. She believes keeping an active mind and healthy body is an essential for a fulfilled lifestyle. Having recently created a ballroom and latin American dance-fitness program 'FITSTEPS' with Olympic swimmer Mark Foster and dance partner Ian Waite. During the last 2 years of developing 'FITSTEPS' they have trained 2500 instructors across UK and have just recently partnered with Universal to launch FITSTEPS World wide.

Natalie's focus is to dance the nation fit and encourage positive health and well being. Thanks to her dance career Natalie has developed important, people skills, social etiquette, team leadership, self discipline, body awareness, appearance, confidence and the list goes on. A perfectly natural transition for Natalie once finishing her schooling was to study more about world of skin, makeup artistry, anatomy, physiology and cosmetics. Having over 10 years experience as an Aesthetician in the cosmecutical industry Natalie went on to develop new businesses, teach and educate therapists and manage some of Sydney's most elite Day Spa's. Working with over 15 of the biggest skin care companies world wide.

During this time Natalie Lowe was spotted for a role on the top rating Australian programme 'Dancing With The Stars' she quickly became and audience 'sweetheart' with her warm personality and her clear passion for performing on television. Then, in 2009 she was headhunted to perform on BBC's Strictly Come Dancing making it all the way to the final in her first year with actor Ricky Whittle.

Natalie Lowe has mentored many more inspirational sportsmen and actors and she continues to brighten up the floor with her elegant choreography and her showcase performances to the likes of Shirley Dame Bassey, Lady Gaga, Tony Bennett, Andre Rieu, and Take That just to name a few.

Natalie Lowe's energy, physical fitness, healthy attitude, grace and natural beauty have been a great appeal to the corporate and commercial sector for public relations and promotional campaigners. Having over 10 years media and TV experience regularly appearing weekly on BBC's It takes two as a back stage reporter, guest appearing on Sport and Comic Relief, Children in Need, BBC Breakfast, and BBC's People Strictly.

Natalie's has had an extremely fulfilling career to date and continues to help others achieve the same. Some examples of this include talking to children in schools, working with corporate companies for team building events, supporting charity events, doing presentations for health, wellness, fitness and beauty seminars.

Natalie is also a lover of food, cooking, entertaining, eating out, music, cars, boats, outdoors, travelling, sun, sea, adventure, going to shows and concerts.
Speech Topics
Natalie Lowe's goal in life is to inspire, encourage and educate everyone of all ages. She's immensely passionate about life and loves helping other people to realise their full potential by enhancing the positive aspects of their day-to-day routine and change their mindset.

Natalie strives for people to think big and see the bigger picture, no matter how much they have to overcome adversities to reach it; she believes that with practice, persistence, self belief and most importantly passion anyone CAN achieve their goals and ambitions in life.

Natalie Lowe is a highly motivating speaker who addresses audiences of all sizes and as diverse in nature as schools, associations and professional organisations, youth groups and corporate bodies.
You may also be interested in...