Naomi Cleaver
TV presenter (Other People's Houses) and design consultant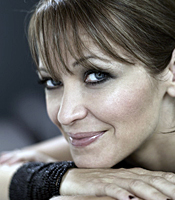 Copyright © Ed Reeve
About
Naomi Cleaver is a design consultant and interior designer whose assured and inspirational insight into how good design can enhance quality of life has made her the perfect choice to present series' of popular prime-time shows on domestic design, decor and even food.

Television credits include Other People's Houses (Channel 4), Britain's Best Home (Channel 4), Honey, I Ruined the House (Channel 4), The World's Greatest Dishes (Sky One) as well the ratings-busting Grand Designs: Trade Secrets (More 4). In May 2008 Naomi co-presented Grand Designs Live (Channel 4), at one moment memorably being suspended upside down in a black PVC cat-suit in order to test construction standard glue.

Off screen Naomi operates two design offices: one in London and the other on the island of Nevis in the Caribbean. A popular speaker, Naomi lectures frequently on design and decor, as well as judging and hosting many design events.

Naomi Cleaver studied three-dimensional design at Willesden College of Technology and Kingston University, subsequently working for internationally renowned design firm Fitch where Naomi first designed the store signage for Liberty of London. Naomi then set up her own design business, echo design agency, a "dating agency" for architects/designers and clients, matching project with practice.

The first agency of its kind, Naomi was instrumental in over 800 projects over a ten year period across the UK, Europe and the U.S.A.. Clients included many private individuals as well as corporations and organisations, such as Nike and BAFTA, plus work for charities such as CRASH, the construction and property industry's charity for the single homeless.

After Naomi Cleaver began working in television she closed echo design agency and opened her eponymous design studio.
You may also be interested in...