Mikhail Gorbachev
Former President of The Soviet Union and recipient of the Nobel Peace Prize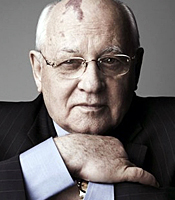 About
Since 1992, the Honourable Mikhail Gorbachev is President, International Foundation for Socio-Economic and Political Studies (The Gorbachev Foundation) and President, Green Cross International.

He is the recipient of the Nobel Peace Prize (1990), the Orders of Lenin, the Red Banner of Labour, and the Badge of Honour.

Mikhail Gorbachev served as President of the Soviet Union from 1990-1991 and as General Secretary of the Polit Bureau of the Central Committee, Communist Party of Soviet Union from 1985 to 1991.

He was born on March 2, 1931 in Privolnoje, Soviet Union (now part of Russia). He grew up in this region and began work and his political career in the city of Stavropol. He worked as a machine operator at the Stavropol Agricultural Institute in1946 and later went to the Moscow State University where he graduated in law.

Mikhail Gorbachev first joined the Communist Party of the Soviet Union in 1952 and acted as First Secretary, Stavropol Komsomol City Committee (1955-1958).

From here, he gained reputation and experience in Stavropol politics and was later elected to the Central Committee, Communist Party (CCCP) of the Soviet Union as a Member in 1971. From 1978-1985 he served as Secretary for the CCCP with responsibility for agriculture. He aslo served as Deputy of Supreme Soviet from 1970-1990 and acted as Chairman for the Foreign Affairs Committee of the Soviet of the Union from 1984-85. From 1985-1990 he was a Member in the Presidium of the Supreme Soviet of the USSR, serving as President from 1989-1990.

Mikhail Gorbachev was married to Raissa Gorbacheva (1953 - 1999), has one daughter, and two grand daugthers.
Books and DVDs
Below you'll find products by Mikhail Gorbachev which may be available for purchase. Click the image to view on Amazon's website. Clients often like to purchase books and other merchandise as autographed give-aways at events where Mikhail Gorbachev is appearing. For bulk purchases, please speak with the Booking Agent handling your event.
Tags for Mikhail Gorbachev