Michael Brunson
ITN's former Political Editor (1986-2004)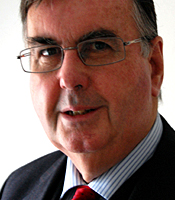 About
Michael Brunson retired as ITN's Political Editor in 2004, a position which he held since 1986. As ITN's Political Editor, he reported on every recent political event in Britain.

In June 1991 Michael Brunson's interview with Margaret Thatcher made headlines when she revealed to him her wish to take her seat in the House of Lords, and told him of her thoughts as her time as Prime Minister drew to a close. Brunson again interviewed Mrs Thatcher at length in November 1991, exactly a year after her dramatic resignation, in which she made known her views on European economic and monetary union.

Other Stories covered include, John Major's difficulties over Europe, and the rise of New Labour under Tony Blair. In 1995, he was leader of the editorial team which won the Royal Television Society's News Event Award, for ITN's coverage the previous year of the sudden death of the Labour Leader, John Smith.
You may also be interested in...