Marc Priestly
Former F1 McLaren race mechanic and pitstop crew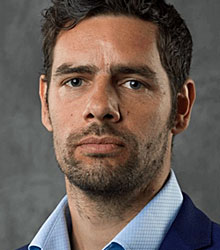 About
Marc 'Elvis' Priestley worked for McLaren Racing as a Formula One mechanic and member of the pitstop crew for nearly a decade, from 2000-2009. He worked with a highly revered list of drivers including Mika Hakkinen, David Coulthard, Kimi Raikkonen, Jean Alesi, Juan Pablo Montoya, Fernando Alonso and Lewis Hamilton.

From a young age Marc absolutely knew that working in Formula 1 was what he wanted to do. He was fascinated by watching it on TV, but as much by the cars and by the pitstops and all the technology as he was the drivers.

Knowing he needed to be part of this exciting industry somehow, Marc took a motor vehicle engineering course at college, then got himself a job as an apprentice, working at a very small race team in north London - it was his dream come true. At that time he was doing very little, not much more than making the tea and sweeping the floor, loading the truck and very occasionally getting to work on the cars, but that was enough to get him hooked.

Constantly seeking other opportunities, Marc was going to racetracks and making sure that he made contact with people in other categories of racing. He chased the dream and always had getting to Formula 1 at the back of his mind.

What eventually got Marc into F1 was nothing but absolute sheer persistence, because all the way through this process he was constantly writing to every Formula 1 team, almost weekly, and he's still got a stack of rejection letters at home. Eventually he made himself such a pain in the a*se that McLaren caved in and eventually gave him an opportunity.

Following retirement from McLaren, Marc's first broadcast role was as a pitlane reporter for BBC Radio 5 Live, where he was able to share his vast technical experience of the cars and equipment with listeners.

Since then, he has become an integral part of Sky's F1 coverage, and is now a co-host on the channel's studio-based chat show, The F1 Report, as well as attending a number of Grand Prix events.
Speech Topics
In the high octane atmosphere of a Formula One pit lane, the spotlight and attention is nearly always on the superstar drivers. Yet, without the technical knowledge, competitive determination and sheer obsession from his garage of mechanics, no F1 driver could possibly hope to claim a place on the podium.

After Dinner Speaking
In his after dinner speeches, McLaren's former number one mechanic, Marc 'Elvis' Priestley, takes his audience on a faced-paced adrenaline-filled journey, revealing some of Formula One's most outrageous secrets and the fiercest rivalries, all fuelled by the determination to win.

Keynote Business Speaking
The pitstop crew are just as critical to making every World Champion as the driver himself and the rest of the F1 team, which is usually around 1000 individuals, not only track-side but also back in the UK HQ. And any mistakes they make can have critical, potentially fatal, consequences.

As a business speaker, Marc Priestly examines how split-second actions and decisions affect the outcome of every single race, under the microscope of the world's media.

He takes a detailed look at the incredible teamwork, pressure, strategy and marginal gains involved to stay ahead of the competition. And talks his audience through the McLaren team ethos of communication, responsibility, accountability, personal and team development, accepting change relates to the broader commercial challenges away from the racing circuit.

His popular keynote speaking topics include:
• Leadership
• Achieving high performance under intense pressure
• Creating the right environment for success
• Incremental improvement and productivity
• Using big data to implement a successful strategy

All this adds up to Marc Priestly's unique position as a highly sought-after business speaker.

Motivational Speaking
Separately, having been part of Formula E's ground breaking journey since the beginning, Marc is well aware of the challenges and obstacles that disruptive beliefs and technologies face. And more importantly, how to overcome them.

Marc Priestly's inspirational talk encourages individuals and teams to think outside the box and be brave enough to develop their ideas without being overwhelmed by fear of failure.
You may also be interested in...