Lord John Stevens QPM
Former Commissioner of The Metropolitan Police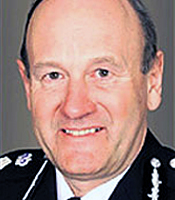 About
John Stevens is recognised as the most successful Commissioner of the Metropolitan Police in modern times. By the time he left the service in 2005, officer numbers had passed 30,000, morale was high and the Met had earned respect from all sections of the community. After stepping down as Commissioner, Lord Stevens completed the inquiry into the deaths of Diana, Princess of Wales and Dodi Fayed. He also chaired Interpol's Strategy Advisory Panel and David Cameron's policy group on border policing - and acted as international security advisor to Prime Minister Gordon Brown.

Lord John Stevens takes a hands-on approach to leadership. He believes it means having the ability and courage to enthuse others and inspire them to follow. Speaking to conference audiences from a wealth of personal experience, he sums up the leader's responsibilities as "delivery, performance, keeping promises and building confidence".

On risk and security, his approach is characteristically pragmatic. Whether the threat is from terrorism or fraud, he advocates thorough risk assessment rather than allowing a culture of risk aversion to take root. Risks must be identified, evaluated, controlled and monitored. Lord Stevens is a board member of Travelex, BAA, Quest and LGC - the leading provider of chemical, biochemical and forensic analysis. After investigating alleged transfer irregularities on behalf of the Football Association, he has also been asked to look into horse-doping in Olympic show jumping and 'leaks' in Formula One.
Testimonials
Considering booking Lord John Stevens QPM for your event? You may find the following client testimonials and comments helpful. To enquire further about Lord John Stevens QPM for corporate and private bookings, click here or call us on +44 (0)1372 361 004.
He went down a storm. We saw his messages impact on the way delegates approached their exercises.
Books and DVDs
Below you'll find products by Lord John Stevens QPM which may be available for purchase. Click the image to view on Amazon's website. Clients often like to purchase books and other merchandise as autographed give-aways at events where Lord John Stevens QPM is appearing. For bulk purchases, please speak with the Booking Agent handling your event.
Tags for Lord John Stevens QPM
You may also be interested in...