Laura McCree
BBC1's 'Changing Rooms' presenter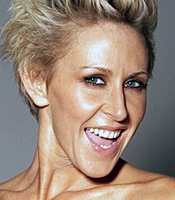 About
Laura McCree has been developing her skills as Interior designer for over 20 years, specialising in truly original bespoke Interior Design. Over the years she has been privileged to create beautiful homes for the most unique & talented individuals.

Clients vary from creating beautiful family homes for premier footballers such as Wayne Rooney, Rio Ferdinand, Wes Brown, Brad Friedel, Shaun Wright Philips, Kieran Richardson, Paul Dalglish, Andy Cole, Steve Watson and Gary Naysmith to name but a few.

Laura also specialises in working with professional property developers throughout Europe. Her experience with space creation & lighting design transforms these projects into some of Europe's magnificent well-appointed luxury homes.

Laura prides herself on her extensive product knowledge within the industry, not just in interior products, but various specialist materials that enable her to supply to her client base the individuality in space creation within their homes that they require & respect.

As a well known Designer within the UK Laura McCree gets the opportunity to be involved in the crazy but exciting world of TV & Media. Being part of the mother ship of all Interior Design programs 'Changing Rooms' it has opened many doors for her, allowing her to express herself by writing articles for high gloss magazines and being part of a huge advertising campaign for John Lewis in line with the Daily Telegraph.

Laura McCree is a highly sought-after speaker, presenter and awards host for industry and corporate events.
You may also be interested in...