Laura Kuenssberg
BBC Political Editor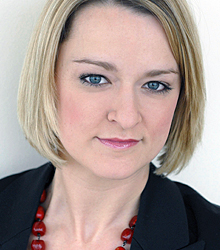 Copyright © BBC Press Office
About
Laura Kuenssberg became the BBC's Political Editor in 2015, and is the first woman to be appointed to the role. Taking over the helm from veteran Nick Robinson, her knowledge of Westminster politics is second to none, with a real flair for asking the questions the audience want answering.

Formerly the BBC's chief political correspondent, Laura Kuenssberg first joined the corporation in 2000, beginning her career on the BBC's north-east and Cumbria programmes as a trainee journalist and went on to win a Royal Television Society award as home affairs correspondent. She later joined The Daily Politics as a reporter in 2003 and has worked on Radio 4's Today programme and also BBC1's Breakfast.

Between 2009 and 2011 Laura was the BBC's chief political correspondent, and at one point, she was so ubiquitous the broadcaster was dubbed 'Kuenssbergovision'. However she switched channels briefly between 2011 and 2013 to become business editor for ITV News. Returning in 2014 Laura Kuenssberg joined Newsnight as the programme's Chief Correspondent and Presenter, providing analysis of the latest stories, both in the UK and internationally from a business, political and economical point of view.

Laura quickly became a prominent feature of the BBC's political coverage and won acclaim for her reporting of the 2010 General Election and the formation of the Coalition government. Other major stories Laura has covered include the build-up to the Iraq war; and the accession of the Eastern European countries into the EU from Prague, Warsaw and Berlin.

Laura has lived and worked in France, and in the United States, satisfying her love for political elections by covering two White House races.

Laura's work has been recognised with several awards, including Broadcaster of the Year and Journalist of the Year in 2016 for her coverage of the dramatic events of the EU Referendum.

Before joining the BBC Laura worked in local radio and TV and studied at Edinburgh and Georgetown Universities. Although she is a proud Glaswegian, she lives happily in East London and she loves Twitter.
Speech Topics
Knowledgeable, dedicated and motivated, Laura Kuenssberg provides her audience with analysis of current affairs and business news in the unique, precise and sometimes succinct manner which has allowed her to become a leading journalist.

Tags for Laura Kuenssberg
You may also be interested in...