Kevin Spacey CBE
Academy Award-winning actor, director and Artistic Director at The Old Vic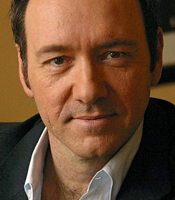 About
Kevin Spacey was born in South Orange, New Jersey but grew up in California, and started out life as a shoe salesman. He began his career as a stage actor during the 1980s, first professional stage appearance was as a spear-carrier in a New York Shakespeare Festival performance of Henry VI, part 1 in 1981. The following year, Kevin Spacey made his first Broadway appearance as Oswald in a production of Henrik Ibsen's Ghosts, starring Liv Ullmann.

Kevin gained critical acclaim and notoriety in the early 1990s, culminating in his first Academy Award for The Usual Suspects (Best Supporting Actor), followed by a Best Actor Academy Award win for American Beauty (1999). His other starring roles include Swimming With Sharks, Se7en, LA Confidential, Pay It Forward, The Negotiator and Superman Returns, in a career which has earned him several Emmy and Golden Globe nominations. Since 2003, he has been the Artistic Director of the Old Vic Theatre Company in London.

He directed The Old Vic's inaugural production "Cloaca", before appearing in "National Anthems", "The Philadelphia Story", "Richard II", "A Moon for the Misbegotten", which subsequently transferred to Broadway, and "Speed-the-Plow" with Jeff Goldblum, to name just a few.

His production company Trigger Street Productions has produced the films, "21", "The United States of Leland", "The Big Kahuna", "Fanboys" and "The Social Network", the story of the founding of Facebook, written by Aaron Sorkin. Trigger Street Productions received 11 Emmy nominations and won Best Picture for the HBO film "Recount", in which Kevin Spacey played Ron Klain, Al Gore's Chief of Staff during the 2000 Presidential Election.

Perhaps no one in Hollywood works harder to defend the value and integrity of the arts quite like Kevin Spacey, he is a committed social entrepreneur and has launched the New Voices scheme, helping young people gain practical theatrical experience. The Old Vic is heavily involved in Education and Community work, using the tools and artists of theatre for young people as well as its vast program for emerging artists, through its program Old Vic/New Voices.

Kevin Spacey was awarded a Doctor of Letters, honoris causa from the London South Bank University in November 2005. And in November 2010, he was invested as an honorary CBE by Prince Charles at Clarence House, on behalf of the Queen, for services to drama.
Speech Topics
As an after dinner speaker, Kevin Spacey discusses the importance of theatre, culture and the arts, and his speeches are peppered with personal stories and anecdotes from a lifetime in the entertainment business. It might also feature some first class impressions of his old friend former US President Bill Clinton plus the likes of Clint Eastwood, Jack Nicholson, Christopher Walken and many others.
Testimonials
Considering booking Kevin Spacey CBE for your event? You may find the following client testimonials and comments helpful. To enquire further about Kevin Spacey CBE for corporate and private bookings, click here or call us on +44 (0)1372 361 004.
Kevin Spacey was great, terrific onstage and off. His speech was very well received. It was funny and tied-in to the content beautifully. Everyone loved the customization. He got a standing ovation when he was done. The backstage meet & greet, was also great. He was very chatty to everyone and probably took 50-60 photos. We loved him. It was a total home run.
It was an absolute phenomenal success with the media, fans and Indian film industry absolutely loving every moment of him being here and they just cannot stop talking about it. Kevin Spacey and team were great throughout the day and also told us how much they enjoyed it. It was both our honor and pleasure having him here with us and working with your talent. We hope to do so again for next year in an even bigger way.
Kevin Spacey was awesome, speech was on point, he was great during Q&A and was very gracious during the meet-and-greet. Lots of great compliments from students and parents!
Mr. Spacey was the perfect fit for our event. It went great and he did a terrific job. He was very engaging with the crowd and the group that came for the meet and greet. Our guests were thrilled to have him.
Tags for Kevin Spacey CBE
You may also be interested in...