Kevin Kennedy
Actor (Curly Watts, Coronation Street) and former addict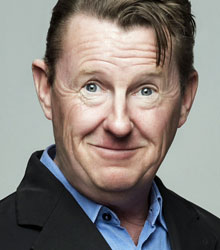 About
Kevin Kennedy has enjoyed a successful career as an actor and is firmly established as part of the fabric of British television; best known for is 20-year portrayal of Norman "Curly" Watts in ITV's flagship soap Coronation Street (1983-2003), the character became a global TV icon and unlikely sex-symbol to many women.

Having trained at Manchester Polytechnic's School of Theatre, Kevin's professional debut was at the Greenwich Theatre in 1982. His West End credits includes: Idle Hands (Shaw Theatre); Ducking Out (Duke of York's) and Chicago at the Adelphi Theatre. Nationally, he has starred in Just Between Ourselves (Theatre Royal ,Windsor); Hamlet (Sheffield Crucible) and tours of No Sex Please- We're British, Chitty Chitty Bang Bang and The Rocky Horror Show. Kevin also played Caractacus Potts in Chitty Chitty Bang Bang (Singapore tour), becoming the first actor to have ever played both Caractacus Potts and the Child Catcher.

In 2009, Kevin Kennedy joined the touring production of Ben Elton's "We Will Rock You" playing the part of ageing hippie "Pop", before joining the cast of the West End London production in 2010. However, it wasn't all glitz and glamour. Whilst starring in Coronation Street, behind the scenes and high-profile appearances, Kevin Kennedy faced a painful personal battle with alcohol addiction. He took a short break from acting in 2000 while recovering from addiction. He returned to Coronation Street a few months later, before finally being written out the soap in September 2003.

Kevin is currently working on a number of acting projects and runs a company called Addiction Management UK — together with his wife Clare — which aims to help individuals, companies and recovery services, create and deliver Personal Outcome Recovery Pathways. He also plans to open up a 'dry bar' called "Kennedy Street". The venue will have all the traditional feel of a pub - live music, friendly banter and food - but will not serve any alcohol. Instead it will have a selection of tea, coffee and mocktails - a concept which has become popular around the country with those recovering from a drink problem. The bar is of course open to everybody, but is staffed by recovering alcoholics, like himself. Kevin got to grips with his drink dependency back in 2000 and a subsequent visit to a dry pub in Liverpool called The Brink, motivated him to start his own alcohol-free space.

Kevin Kennedy is a charity ambassador for Acorn Treatment, where he holds group counselling sessions to try to help other people overcome their demons. He lives in Brighton, West Sussex with his wife and two daughters and is available for personal appearances, after dinner speaking and motivational speaking.
Speech Topics
After Dinner Speaking
Presenting "An Evening With Kevin Kennedy", a light-hearted insightful and humorous journey through Kevin's 30+ year career in showbusiness packed with anecdoes and behind-the-scenes stories from his days in Coronation Street, his celebrity co-stars and accounts of treading the boards on London's iconic West End stages.

Motivational Speaking
As a recovering addict, Kevin Kennedy presents an inspiring, emotional and moving account of his very public battle with, and recovery from, alcohol addiction.

The man who played Curly Watts would down a bottle of vodka before heading to the Coronation Street set, where he secretly guzzled more in his dressing room to get through filming. At his lowest ebb, the drinking binges were so bad Kevin lost days of his life to blackouts and once woke up in New York, unaware he had flown there.

Kevin comments "The last thing I could recall was being in my flat in Manchester. I woke up and could see from the decor that I was in a hotel room. I staggered out of bed and opened the curtains. On the street below were yellow cabs – there was New York."

A household name actor formerly one of the biggest stars in Britain's longest running soap with 22 million views tuning in to watch his character, these days Kevin Kennedy can be found smartly dressed in a suit and sipping mineral water, worlds away from the scruffy character he played from 1988 to 2003. He was rehabilitated in the glare of the public spotlight and is living proof that you can conquer your demons, no matter how low you sink.

Kevin is proud to have passed more than 20 YEARS without touching drink.
You may also be interested in...