The Rt Hon. Kenneth Clarke QC MP
Former Chancellor of the Exchequer under John Major's government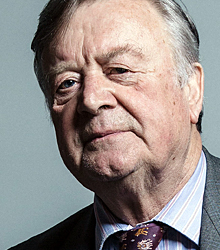 About
The Rt. Honourable Kenneth Clarke QC MP has been described by the media as a 'Big Beast' of British politics, having served in the Cabinet as Chancellor of the Exchequer, Home Secretary, Lord Chancellor and Justice Secretary, Education Secretary, Health Secretary and minister without portfolio.

He has been the President of the Tory Reform Group since 1997 and, opposing Brexit, was the only Conservative MP to vote against leaving the European Union in the 2016 Referendum. Ken Clarke is President of the Conservative Europe Group, Co-President of the pro-EU body British Influence and Vice-President of the European Movement UK

Clarke was elected Conservative MP for Rushcliffe at the 1970 General Election, and after a succession of appointments in and out of government, he was made Minister for Health in March 1982. He is a barrister-at-law, having been called to the Bar by Gray's Inn in 1963 and became QC in l980. In the New Year Honours List of 1984 he was appointed a Privy Counsellor.

In September 1985, Kenneth Clarke was appointed to the Cabinet as Paymaster General and Minister for Employment. He was then appointed Chancellor of the Duchy of Lancaster and Minister for Trade and Industry following the June 1987 General Election.

The late eighties and early nineties saw Ken Clarke rise through the political ranks. From July 1988 to November 1990 he was Secretary of State for Health, and then took over as Secretary of State for Education and Science, until April 1992 when he landed the post of Secretary of State for the Home Office. He was Chancellor of the Exchequer from May 1993 until the General Election in May 1997, when the Conservatives were defeated by New Labour under Tony Blair.

Ken Clarke is one of only five ministers to serve throughout the whole 18 years of the Governments of Margaret Thatcher and John Major, which represents the longest uninterrupted Ministerial service in Britain since Lord Palmerston in the early 19th century. He returned to government in 2010 and his total time as a minister is the fifth-longest in the modern era; having spent over 20 years serving under Prime Ministers Margaret Thatcher, John Major and David Cameron.

Kenneth Clarke chairs the Conservative Party's democracy taskforce and has held various positions in the business world, including Deputy Chairman and a Director of British American Tobacco Plc (1998-2007), Deputy Chairman of Alliance Unichem Plc, Chairman (non-executive) of Unichem, Director (non-executive) of Independent News and Media (UK) and Director of Foreign & Colonial Investment Trust.

In 2016 he published his memoirs, "Kind of Blue: A Political Memoir".
Speech Topics
When his busy schedule allows, Kenneth Clarke is a popular keynote conference speaker and usually talks on matters relating to British, European and global politics or the economy.
Tags for The Rt Hon. Kenneth Clarke QC MP
You may also be interested in...