Johnny Vegas
Highly accomplished and versatile comedian and comedy actor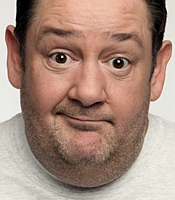 About
Johnny Vegas - aka Michael Pennington - won the Festival Critics' Award at the 1997 Edinburgh Festival and was the first newcomer to be nominated for the Perrier Award.

A highly accomplished and versatile comedy actor and comedian, Johnny is known for his angry rants, surrealism, high husky voice and support of St Helens rugby league club. More recently he has moved into dramatic acting and directing.

He has co-starred in Happiness (BBC2) with Paul Whitehouse and appeared in Attention Scum with Simon Munnery; both shows being nominated for The Golden Rose Of Montreux. He has also co-starred alongside Stephen Tompkinson in the BBC drama, Staying Up, and starred in Radio 4's acclaimed adaptation of The Flump. Johnny has also made regular, talked about, appearances on the BBC series I Love The '70's, I Love The '80's, and I Love The '90's, and he has been widely acclaimed as the star of the series.

Johnny has appeared on a wide range of panel games, from Shooting Stars (BBC2), Never Mind The Buzzcocks (BBC2), and They Think Its All Over (BBC1), Patrick Kielty's Stupid Punts as well as making memorable appearances on shows as diverse as Jumpers For Goalposts (Sky One), Don't Feed The Gondolas, and The Late, Late Show, RTE.

Johnny Vegas is available for awards ceremonies and select speaking opportunites.