John Suchet
Retired ITN newsreader, presenter and Beethoven enthusiast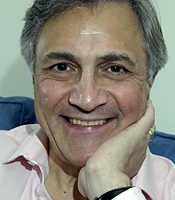 About
John Suchet was, until his retirement from ITN in March 2004, one of the country's best known television newsreaders. Before becoming a newsreader, John was a reporter from ITN, covering major events around the world. He has been honoured for both roles: Television Journalist of the Year 1986, and Television Newscaster of the Year 1996.

John began his career with Reuters news agency. In the summer of 1968 he was in Paris covering his first major story - the student riots which ultimately brought down President de Gaulle. After a brief spell with BBC TV News, he joined ITN in August 1972, intending to return to the BBC after a year. He stayed at ITN for the rest of his career.

John Suchet's great passion away from the news is music, particularly the life and work of Beethoven. He began researching and writing the story of the great composer's life in 1990. In the late 90's his trilogy, The Last Master, was published to wide acclaim. The Daily Telegraph wrote 'This book is not for academics but for you and me and anyone moved by Beethoven's music, and will probably do more to further understanding of the composer than any professorial paper'.

John Suchet has been honoured by his old university, the University of Dundee, which appointed him Honorary Doctor of Laws in 2000. In 2001, the Royal Academy of Music appointed him Honorary Fellow in recognition of his work on Beethoven, and in 2003 he was elected onto the Academy's Governing Body.
Speech Topics
John Suchet is well-known for his love of public speaking, which encompasses his breadth of experience gained from a lifetime in television news, as well as his extensive knowledge of classical music. He is also a regular host of awards ceremonies, conferences and other corporate events.

John began giving short after dinner style talks about Beethoven's life following the publication of his numerous books. The talk developed, and he soon gave his first talk with Bernard Lanskey, Assistant Director of Music at the Guildhall School of Music and Drama, as piano accompanist.

Since then, many years ago, John Suchet has given his talk, 'Beethoven - The Last Master', accompanied by Bernard leading a piano trio, in more than 100 theatres and concert halls around the UK. BBC Television filmed John's talk at the Theatre Royal, Bury St Edmunds, and the film has been shown many times on BBC2. He has also given his talk at an international symposium in Beethoven's home city, Vienna.

John has several other talks available: 'The Last Waltz' tells the extraordinary story of Johann Strauss, the tensions, rivalry and bitterness behind some of loveliest melodies ever composed, set against the terminal decline of the Habsburg Imperial Royal Family as World War One approaches.

'One More Shot Bob' chronicles John's own life as a television news reporter, reporting from the world's trouble spots, and relate the tensions and hilarity of live news reading.
Books and DVDs
Clients often ask about purchasing books for giveaways and delegate packs. Below you'll find a selection of products by John Suchet. Click the images to view on Amazon's website. For bulk orders, please speak with your Booking Agent.
You may also be interested in...