John Micklethwait
Editor-in-Chief Bloomberg News and former Editor-in-Chief, The Economist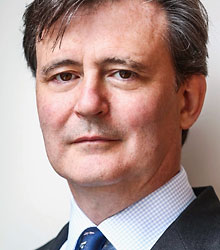 About
John Micklethwait is Editor-in-Chief of Bloomberg News and former Editor-in-Chief of The Economist.

Before that he edited the US section of the newspaper (1999 - 2006) and ran the New York Bureau for two years, having edited the Business Section of the newspaper for the previous four years.

His other roles have included setting up The Economist's office in Los Angeles, where he worked from 1990 - 1993 and being Media Correspondent. He has covered business and politics from the United States, Latin America, Continental Europe, Southern Africa and most of Asia.

John Micklethwait is a frequent broadcaster and has appeared on CNN, ABC News, BBC and NPR. He is the co-author of "The Witch Doctors", "A Future Perfect: the Challenge and Hidden Promise of Globalisation" and "The Company: A Short History of a Revolutionary Idea" and "The Right Nation", a study of conservatism in America, with Adrian Wooldridge, also an Economist journalist.

He is a winner of the Wincott Award, Britain's leading prize for financial journalism and in 1990 was Voted Young Financial Journalist of the Year by the Harold Wincott Foundation.
Books and DVDs
Clients often ask about purchasing books for giveaways and delegate packs. Below you'll find a selection of products by John Micklethwait. Click the images to view on Amazon's website. For bulk orders, please speak with your Booking Agent.
Tags for John Micklethwait
You may also be interested in...