John McCririck
Eccentric horse racing pundit and television presenter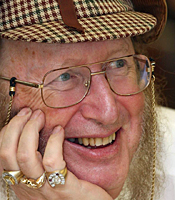 About
Best known for his horse racing punditry, deerstalker hat and renowned sideburns, John McCririck is one of the most eccentric and flamboyant characters in UK sport.

An outspoken personality, John graduated from print journalism and began his sporting career at famous horse racing newspaper the Sporting Life in the late 1970's and has worked in sports journalism and as a specialist after dinner speaker for more than forty years.

Following his stint at the Sporting Life, John McCririck began punditry for ITV's horse racing coverage in 1981, then went on to become a sports speaker and horse racing pundit for Channel 4 Racing where he was known for both his loud attire and equally brash commentary. Working from inside a betting ring John became a popular choice of pundit and horse racing speaker — often being called upon to appear in other programmes as a horse racing specialist.

John McCririck enjoyed an incredible 31 years as undoubtedly one of the most renowned and appreciated characters in horse racing. Outside his work as a sports presenter John McCririck has established himself as a reality TV star and celebrity personality; his appearance in the third series of Channel 4's Big Brother, alongside subsequent appearances on a number of other reality series including the Weakest Link has helped to raise his profile and garner a strong and occasionally controversial public image.
Speech Topics
A firm crowd-pleaser, John McCririck's unique and eccentric personality makes him an incredibly popular choice for race nights, award dinners and ribbon cutting events, alongside public speaking engagements.

A passionate and undeniably well informed horse racing expert, John McCririck draws a crowd wherever he is appearing and remains an excellent choice of celebrity guest for both corporate and private functions.
You may also be interested in...