John Lasseter
Chief Creative Officer, Walt Disney and Pixar Animation Studios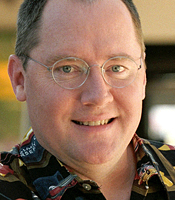 About
John Lasseter is Chief Creative Officer of Walt Disney and Pixar Animation Studios and Principal Creative Advisor, Walt Disney Imagineering. He is a two-time Academy Award®-winning director and oversees all Pixar and Disney films and associated projects. Lasseter directed the groundbreaking and critically acclaimed films Toy Story, A Bug's Life, and Toy Story 2. Additionally, he executive produced Monsters, Inc., Finding Nemo and The Incredibles. John returned to the director's chair in 2006 with the release of Disney•Pixar film, CARS.

In 2004, John Lasseter was honoured by the Art Directors Guild with its prestigious "Outstanding Contribution To Cinematic Imagery" award and received an honorary degree from the American Film Institute.

Under John Lasseter's supervision, Pixar's animated feature and short films have received a multitude of critical accolades and film industry honours. He received a Special Achievement Oscar® in 1995 for his inspired leadership of the Toy Story team. His work on Toy Story also resulted in an Academy Award®-nomination for "Best Original Screenplay," the first time an animated feature had been recognised in that category. Finding Nemo, released spring 2003, became the highest grossing animated feature of all time and won the Oscar® for "Best Animated Feature Film."

As creative director of Pixar, John Lasseter enjoyed the critical acclaim and box office success of The Incredibles in 2004. The film was recognised with a record-breaking 16 Annie Award nominations and several "Best Of" awards by The Wall Street Journal, American Film Institute, National Board of Review and many other recognitions.

John Lasseter has written, directed and animated a number of highly renowned short films and television commercials for Pixar, including Luxo Jr.,1986 Academy Award® nominee; Red's Dream, 1987; Tin Toy, 1988 Academy Award® winner; and Knickknack, 1989, which was produced as a 3D stereoscopic film. Pixar's Tin Toy became the first computer animated film to win an Oscar® when it received the 1988 Academy Award® for Best Animated Short Film.

Prior to the formation of Pixar in 1986, John Lasseter was a member of the Computer Division of Lucasfilm Ltd., where he designed and animated the computer-generated Stained Glass Knight character in the 1985 Steven Spielberg-produced film Young Sherlock Holmes.

John Lasseter attended the inaugural year of the Character Animation program at California Institute of the Arts and received his BFA in film there in 1979. While attending California Institute of the Arts, Lasseter produced two animated films, both winners of the Student Academy Award® for Animation; Lady and the Lamp in 1979 and Nitemare in 1980. His very first award came at the age of five when he won $15.00 from the Model Grocery Market in Whittier, California, for a crayon drawing of the Headless Horseman.
You may also be interested in...