John Gray Ph.D
Author of 'Men Are From Mars, Women Are From Venus' and family therapist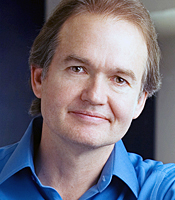 About
John Gray, Ph.D., is the author of 15 best-selling books, including Men Are from Mars, Women Are from Venus, the number one best-selling book of the last decade. In the past ten years, over 30 million Mars and Venus books have been sold in over 40 languages throughout the world. Dr. Gray's other best-selling books include What You Feel You Can Heal Men· Women and Relationships· Mars and Venus In the Bedroom· How To Get What You Want and Want What You Have· How To Get What You Want at Work.

John Gray has appeared on 'Oprah', 'The Today Show', 'CBS Morning Show', 'Good Morning America', 'The View', 'Politically Incorrect', 'Larry King' and others. He has been profiled in Newsweek, Time, Forbes, USA Today, TV Guide, People and numerous other major publications across the United States. Dr. Gray's nationally syndicated column reaches 30 million readers in many newspapers, including The Atlanta Journal/Constitution, New York Daily News, New York Newsday, The Denver Post and the San Antonio Express-News. Internationally, the columns appear in publications in England, Canada, Mexico, Korea, and in Latin American and the South Pacific.

John Gray is a Certified Family Therapist, Consulting Editor of the Family Journal and a member of the Distinguished Advisory Board of the International Association of Marriage and Family Counselors. He received his doctorate in Psychology and Human Sexuality from Columbia Pacific University in 1982.
Speech Topics
John Gray's unique focus is helping men and women to understand, respect and appreciate their differences. During the last two decades, he has conducted public and private seminars for thousands of participants.

John entertains and inspires audiences with his practical insights and easy-to-use communication techniques that can be immediately applied to enrich relationships.
Books and DVDs
Clients often ask about purchasing books for giveaways and delegate packs. Below you'll find a selection of products by John Gray Ph.D. Click the images to view on Amazon's website. For bulk orders, please speak with your Booking Agent.
You may also be interested in...