Jerry Springer
English-born popular American chat show host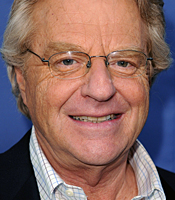 Copyright © Brett Weinstein
About
Challenging the rules and thriving on extremes - He's a unique combination of New York City street smarts, political savvy, adoring father, concerned humanitarian and a real nice guy. Jerry's multifaceted personality speaks to people of all ages, men and women alike.

Jerry was born in London, England in 1944 in the midst of his family fleeing from the Holocaust. At age five, Jerry immigrated to New York with his parents. He can still recall the sense of awe and anticipation he felt as he first saw the Statue of Liberty and crossed the gates of freedom on Ellis Island.

Having to adapt to a new country left an indelible mark on Springer. Being the outsider taught him acceptance, tact and compassion - the same qualities he currently draws upon as a talk show host.
You may also be interested in...