Jay Leno
American comedian, writer and chat show host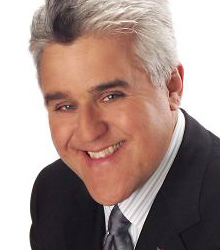 About
Acclaimed TV late night show host, admired stand-up comedian, best-selling children's book author, much-in-demand corporate speaker, loveable TV and movie voice-over artist, pioneering car builder and mechanic, and philanthropist… it's no wonder that Jay Leno has always been widely characterised as "the hardest working man in show business."

Jay Leno's late night television ratings domination included more than two decades of "The Tonight Show with Jay Leno," winning every consecutive quarter of his hosting over the past 19 years. After resuming hosting the 11:35 PM programme following a one-time brief interruption of these duties, Jay once again took the show to the top, leading all of the ensuing quarters handily for another three years. Under his helm, the show was honoured by the Television Academy with an Emmy for "Outstanding Comedy, Variety or Music Series." "The Tonight Show" has also taken home the trophy for "Favourite Late Night Show" in the annual TV Guide Awards determined by voting viewers, and Jay was recently installed in the Television Academy's Broadcast Hall of Fame.

Having passed the torch of Tonight Show succession to Jimmy Fallon, Jay is only getting busier. He has increased his customary busy schedule of comedy performances in venues around the United States and occasionally abroad, and he continues his web venture, "Jay Leno's Garage", relating to his passion for automobiles, which has gained an international following on the Web, not to mention an Emmy Award.

You may also be interested in...