James Freedman AKA 'The Man of Steal'
One of the UK's finest exponents in the art of pick pocketing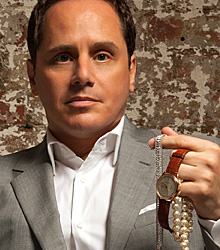 About
James Freedman is "The Man of Steal". James has earned himself an unrivalled reputation as a superb magician and one of the UK's leading pickpocket entertainer.

Combining award winning sleight-of-hand with incredible pickpocket skills and humour, James will deliver entertainment that your guests will enjoy and remember.

James Freedman is a very versatile magician and speaker. He has performed for royalty, heads-of-state, celebrities and corporate audiences throughout the world and appears at all kinds of company conferences, exhibitions, corporate events and private parties. His real secret? James always takes the time to find out about every event and every audience so that he can personally tailor every performance to his clients' needs.

As a magician, James takes his audience's experience beyond anything you may have seen before by making the magic happen under impossible conditions in the spectators' hands! As a pickpocket, James ensures that members of the audience who assist him become the real stars of the show as watches, wallets and other valuables disappear and reappear from their pockets!

As a sleight of hand expert and an authority on con-men and street pickpockets, James lectures to many groups including police and security staff. He has been a specialist advisor on numerous films and TV shows and has coached actors including Robert Vaughn, Edward Norton and Sir Ben Kingsley in magic and pickpocket skills.

Go on... Steal Yourself, contact us to have James appear at your event.

Walkabout Interactive
James can appear at private parties and corporate receptions posing as a security guard, waiter or just another guest while he mingles with your guests and exercises those special skills. As a Member of the world famous Magic Circle, James might add some amazing magic to the demonstration while he 'hand picks' a few pockets... but don't worry, he gives it all back! Suitable for groups of 10 to 100 guests

After Lunch/Dinner Cabaret
"The Man of Steal" cabaret act is completely unique and has been featured at events all over the world.

On stage, James combines pickpocket skills, magic and humour in his famous fast paced act that has entertained thousands of people across four continents. James invites one or two people to help him show the audience exactly how pickpockets work. "Don't worry," he says, "I give it all back!". Then James steals wallets, watches, credit cards and keys... and incredibly even glasses, belts and ties. Although the audience see exactly how he does it, the volunteers don't! Suitable for international audiences of 20 or more people.

Film & TV Credits
The Real Hustle (BBC) - Pickpocket Consultant
This Morning (ITV) – Pickpocket sequences & interview to promote feature film
The Illusionist (dir. Neil Berger) - Magic Consultant and Magic teacher to Edward Norton
Oliver Twist (dir. Roman Polanski) – Pickpocket Consultant
Hustle (BBC1) – Magic, Gambling and Pickpocket Consultant
Tripp (Endemol) – Pickpocket performer and Consultant
This Morning (ITV) – Magic Consultant for hustle and con-man feature
The Big Breakfast (Channel 4) – Illusion design and Magic Presenter for magic feature
Testimonials
Fantastic... a real professional.
I was really enthusiastic to work with James. He's one of the ultimate all-stars in his field today.
I will never forget the Inspector's face when you returned his warrant card... if he had not been laughing so much you would probably have been arrested!
Tags for James Freedman AKA 'The Man of Steal'
You may also be interested in...