Ian Lovett
Chairman of Dunbar Bank plc and Middlesex County Cricket Club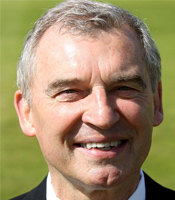 About
Ian Lovett has held the position of Chairman of Dunbar Bank plc since 2003, having previously held the position of Chief Executive at the Bank for 9 years.
Ian also holds the following positions:

- Director - Zurich Advice Network (formerly Allied Dunbar)
- Trustee - Zurich Financial Services Community Trust
- Chairman of ZFS Community Trust Executive
- Chairman of Zurich Advice Network Foundation

Apart from running what is an unconventional and very profitable Bank, Ian's work responsibilities also encompassed the management of much of Zurich's 5,000 strong Sales Force, one of the largest in Europe.

Before joining Zurich, Ian had a wide-ranging career at Barclays Bank including running their Small Business Unit and as a Manager of a number of large branches in central London.

Outside work his principal interests are cricket, (he is the current Chairman of Middlesex County Cricket Club) and comedy (those who have seen him play cricket believe that the two are closely related).

Ian Lovett is also a member of the National Cares Leadership Team (BITC), member of the London Committee of Help the Aged and Deputy Chairman of the Governors of Tonbridge Grammar School.
Speech Topics
A funny and topical speaker, Ian Lovett provides an alternative look at the business workplace. Ian argues against the idea that running a major business or team needs to take up your entire life, illustrating how the correct work/life balance produces better results.

Ian introduces insights into sales and motivating large teams through anecdotes relating to his life, and presents many practical ideas on how to establish strong relationships with clients and encourage customers to return.
You may also be interested in...