Howard Putnam
Former CEO of Southwest and Braniff Airlines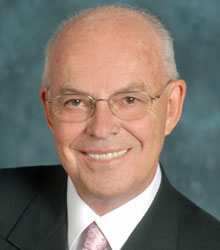 About
Howard Putnam is an author, speaker and advisor on business issues, change, leadership and ethics. He has experienced turbulence many times in his distinguished business career and not only survived, but thrived by taking advantage of the opportunities for change and transformation that turbulent times offer. As the former CEO of the highly successful Southwest Airlines, Howard Putnam led the fledgling carrier through airline deregulation and the development and implementation of the "vision" that has guided Southwest to revered heights over the past twenty years.

In 1978 Howard Putnam was recruited to become President and CEO of fledgling Southwest Airlines in Dallas. While at Southwest, Howard Putnam and his team tripled the revenues and tripled profitability in three years. They also successfully guided Southwest through airline deregulation and Southwest was the first air carrier to order the Boeing 737-300, which later became the largest selling aircraft ever for Boeing. Southwest tripled in size and tripled in profitability during his tenure, and today is still a corporate model for organisations that put their people first in their culture. Howard Putnam led the visioning process at Southwest as well as further developing the 'fun' culture and excellent customer service for which Southwest is still known.

Howard Putnam was later recruited to be Chairman and CEO of the financially failing Braniff International and became the first CEO to take a major airline through Chapter 11 reorganization successfully. It was at Braniff that he learned crisis management while rallying 10,000 employees to new heights as they fought to save their company. The reorganization was accomplished so efficiently, that Harvard University used it as a model and wrote The Ethics of Bankruptcy, a case study for ethically leading an organization through turbulence.

Howard Putnam's ultimate objective is "bottom line improvement." He believes that cultures that place people as their #1 priority have the greatest long-term impact and success. He has an MBA in Marketing from the University of Chicago and completed Harvard's Advanced Management Program.

Howard Putnam was raised on an Iowa farm and learned to fly out of a pasture in his Father's J-3 Piper Cub. He entered the airline business as a baggage handler at Midway Airport in Chicago for Capital Airlines at age 17. Capital was soon merged into United and Howard Putnam held thirteen different positions in sales, services and staff assignments in several cities, before being named Group Vice President of Marketing for United Airlines, the world's largest airline, in 1976.

Howard Putnam has also been an entrepreneur, serving as Chairman of a startup investment company and two small manufacturing and distribution companies. Currently, he is Chairman of an aircraft interior refurbishment company. Howard and his wife Krista have two children, Michael, a commercial airline captain and Sue, in public relations and marketing.
Testimonials
Howard Putnam was the best professional speaker I have ever had the privilege to work with. He has a solid understanding of our industry and our business goals. His style is one that makes you want to listen. His views on people, vision and ethics are sorely needed today. If you want to begin or end your conference with an everlasting bang, Howard Putnam is your man.
Our staff is raving about you. You have charisma coming out of your ears. It was a pleasure to listen to your presentation.
I've always appreciated Howard Putnam's honesty and ethical approach. He shows you pathways to resolve difficulties with many constituencies during good and difficult times.
Our folks have not stopped talking about your speech. They are revering you as a truly authentic leader. Thank you so much for helping make our event a success.
Howard, thank you for your enlightening presentation you gave to the La-Z-Boy leadership group. We wanted to leave our team on a high, and you certainly helped us achieve that with your inspiring and motivational remarks. Your presentation about keeping things simple, never losing your values and having a little luck all resonated with our organisation, and it was delivered with such self-effacing humour that everyone could relate to the story and successes you've experienced in your life and career. Thanks for helping to make our leadership meeting a huge success.
It was a real pleasure having you join us. Your remarks were great and we have received many positive comments. Thank you for taking the time to prepare. It was obvious you took the time to get to know us.
Thanks for coming to the meeting and thanks for the great presentation. You made a big impact on the group, the feedback from the audience was uniformly positive. And yes, the team left on a 'high'.
Howard Putnam is a powerful speaker who can relate to his audience through his perspective into the culture of an organisation and humorous introspect.
You may also be interested in...