Helene Hunt
Corporate broadcast presenter and former 'Bond Girl'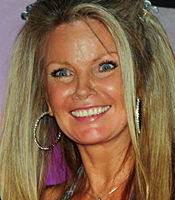 About
If you are looking for an intelligent, attractive, vivacious, amusing and highly professional corporate and broadcast presenter with an unusual combination of talents, then you need look no further! Helene Hunt is that needle in the proverbial haystack!

The former 'Bond girl' and BBC trained reporter is no stranger to the mediums of television, radio and audience based 'live' work. Originally from an acting background, she learnt her craft at the BBC working on Woman's Hour on Radio 4. Scripting, presenting and producing sports packages for Radio 5 she eventually graduated to OB's for an afternoon cable channel and work on the television.

Out in the corporate world, as well as videos and voice-overs, Helene Hunt works very effectively under pressure on 'live' events and is admired for her professionalism and enthusiastic support for all projects she is involved with.

From car launches to conference hosting, 'On the couch' interviewing to hard-nosed interrogations, with a great deal of experience under her belt, she can tailor her style to fit the requirements of the corporate brief ensuring that the right message is given the right feel.

As for the unusual combination of talents, she is a fully qualified personal trainer and spent 2 years on her own boat Scallop diving for a living up in Scotland's West Coast!

She lists 100cc Karting, Horse riding, Snow skiing, Sailing and Rollerblading as some of her favourite hobbies and anything to do with animals is close to her heart.
You may also be interested in...