Dame Helen Alexander DBE
Former President of The CBI and CEO of The Economist Group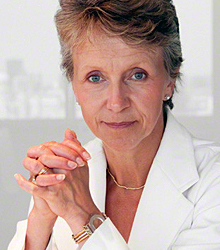 About
Dame Helen Alexander is the chairman of UBM plc (United Business Media) and the Port of London Authority (PLA). She is also deputy Chairman of eSure plc, a non-executive director of Rolls-Royce plc and a senior adviser to Bain Capital. She was President of the CBI 2009-2011, and Chief Executive of the Economist Group until 2008. Alongside these roles Helen has also served on the boards of Northern Foods, BT and Centrica. She is a champion of women on boards.

Helen Alexander is Chancellor of the University of Southampton and is currently involved with other not-for-profit organisations in media, the arts and education, as a director of the Thomson-Reuters Founders Share Company, the Grand Palais in Paris, the Said Business School in Oxford and St Paul's Girls' School. She is also a Trustee of Sir Tim Berners-Lee's World Wide Web Foundation.

Beginning her career at publishers Gerald Duckworth and Faber & Faber, Helen Alexander moved to The Economist as marketing manager in 1985. She was Managing Director of The Economist Intelligence Unit, the world-renowned industry and management information analysis group, from 1993-1997 and four years later she was appointed Chief Executive of the Economist Group; a position she held until 2008, when she stepped down to become the first woman president of the CBI, Britain's leading trade body.

Helen's time in charge of The Economist saw the publication's circulation increase by almost 50 per cent and the company's profit rise by 75 per cent. She also led the brand and the magazine's expansion internationally and on-line.

Helen Alexander has an MBA from INSEAD, and was awarded a CBE for services to publishing in 2004 and a DBE for services to business in 2011.
Speech Topics
Helen Alexander's varied and successful business career enables her to speak with authority on a range of business topics; leadership and leading change within an organisation; corporate governance; the role of a CEO, strategy; diversity and women in business; globalisation and the media, to name just a few.
You may also be interested in...