Hardeep Singh Kohli
Scottish TV presenter, writer and comedian (The One Show, Question Time)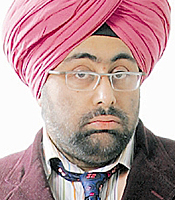 About
Hardeep is a regular reporter on the highly successful BBC1 programme The One Show. Part of the original team, he reports the length and breadth of the country on all manner of stories.

He is a regular on BBC 1's Question Time, This Week with Andrew Neil and was a former Newsnight Review contributor.

For Channel 4 he has written and presented the BAFTA award winning "In Search of the Tartan Turban" which led to the critically acclaimed and award winning "Hardeep Does..." Also for Channel 4 he wrote and presented the seminal three part gambling series "50 says you'll watch this". He also presented a ground-breaking documentary about Scientology, "the Beginners Guide to L.Ron Hubbard".

Hardeep was runner-up on the first series of Celebrity Masterchef which led to two series for UKTV Food, "New British Kitchen" and "Chefs and the City".

His love of food is expressed in his larger than average belly and the publication in 2008 of his first book "Indian Takeaway", currently nominated for an Independent Book Award. He has written about food for Olive, Observer Food Monthly, The Spectator, The Times, The Sunday Times and various other publications. He has just been appointed as a columnist for Waitrose Food Illustrated. Hardeep has also been announced as a member of the judging panel for the Organic Food Awards 2009.

As a journalist he has a column in Scotland on Sunday called "hardeep is your love" which has seen him twice nominated in 2007 and 2008 for Scottish Columnist of the Year at the Scottish Press Awards. He is also Contributing Editor on the Spectator Magazine, has written for the Independent on Sunday, The Times, Observer Woman, Conde Nast Traveller to name but a few.

Having started his broadcasting career in radio he still holds the wireless very dear, presenting extensively across Radio 4, from primetime slots like Midweek, Saturday Live to The Food Programme. He has made a plethora of documentaries for Radio 4, subjects as diverse as the Partitioning of India, Great British Rivers to tight rope walking. Hardeep has also made documentaries for Radio 2 and 3, and presenting across Radio 5 Live.

Hardeep is in demand as an after dinner speaker and awards host and has recently branched out into business and motivational speaking. He is about to embark on a new project he has devised to create team-building through cooking.
Tags for Hardeep Singh Kohli
You may also be interested in...