Hairy Bikers
Big hearted, down-to-earth TV cooks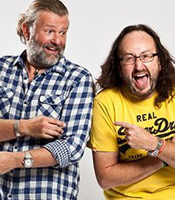 About
With their irresistible enthusiasm, Si King and Dave Myers, aka The Hairy Bikers, have become national treasures. Big hearted, down-to-earth cooks with a love of good food, they have been cooking together for more than twenty years.

The Hairy Bikers have created haute cuisine dishes with Michelin-starred chefs and have travelled the world in the pursuit of great food. They've also explored the length and breadth of the British Isles to discover brand new recipes and create their own fresh takes on cooking classics. The stars of several hit television shows, they are the UK's third most popular cookery book writers after Jamie and Nigella. Their first diet book THE HAIRY DIETERS: HOW TO LOVE FOOD AND LOSE WEIGHT toppled 50 SHADES OF GREY from the top of the bestsellers charts in summer 2012 and remained in that position for six weeks. It comfortably topped the list of the best-selling cookbooks of 2013, outselling its nearest rival by almost two-and-a-half copies to one. Their second was published on 15th August that same year and has done equally well.

Born and bred in Barrow-in-Furness, Dave Myers' versatile skills have taken him to some unusual places. He worked as a furnaceman in a steelworks whilst a student, to finance a degree and postgraduate studies in Fine Arts at Goldsmiths, where he studied egg tempera and the work of the Old Masters. On graduating, Dave joined the BBC as a make-up artist, specialising in prosthetics. He went on to work on numerous feature films and high-profile television series, notably LIVES AND LOVES OF A SHE DEVIL, PRIME SUSPECT and the hit BBC1 series SPOOKS. His career has taken him from Hollywood to the African deserts. He's also travelled extensively away from work, picking up recipes and cultures almost as fast as he's made friends all over the world, not the least of whom is Simon King, Dave's boon travelling companion and the other half of the Hairy Biking duo.

Hailing from North East England, Si is a big, blonde-bearded biker with an infectious laugh, and a charm and sense of humour that's a skeleton key when it comes to getting into people's hearts and homes. This easy congeniality and warmth served him well for years in his work as a First Assistant Director and Locations Manager for film and television (including the HARRY POTTER series of films), but his passions lie elsewhere. A love of food was encouraged early by Si's family and particularly his father, who would bring back exotic ingredients from his voyages with the Royal Navy, and Si's enthusiasm is matched by his own children's willingness to try new kinds of food.

Si and Dave are not professional chefs so much as life-long foodies; they met through work on the set of a drama (appropriately enough on a Catherine Cookson adaptation) and they take every opportunity they can to pack their panniers and head off in search of authentic culinary and cultural experiences in all corners of the world.
Books and DVDs
Clients often ask about purchasing books for giveaways and delegate packs. Below you'll find a selection of products by Hairy Bikers. Click the images to view on Amazon's website. For bulk orders, please speak with your Booking Agent.
You may also be interested in...