Gerry Simms
Contemporary street magician combining magic with unique stunts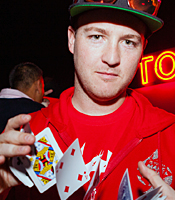 About
Gerry Simms is a unique magician... his strongest discipline is street or close contact magic, amazing the public with seemingly impossible tricks and leaving them completely speechless.

DC, the iconic brand for action sports wear sponsor Gerry and provide all of his clothing and footwear so he is always up to date with the latest look. Gerry has performed all over the UK and internationally including Las Vegas, Miami, New York, Istanbul, The Philippines and several ski resorts in France to name a few. He has worked at some of the biggest venues and events in the world including Wembley stadium on opening week, London Ski Show for their ski and snowboard trade shows, the Winter Music Conference Week in Miami where he performed for the big DJ's as well as various festivals including V Festival, Goodwood, Relentless Boardmasters, Glastonbury and Unleashed festival.

Gerry Simms has also worked with various big brands and launches, entertaining the VIP's and celebrities at their events including the launch of Dirt 3 at London Freeze which was filmed for Channel 4, the EA Sports launch of Skate 3, a corporate event for clothing company Coloco Jacks, and the Urban Clothing Convention in Las Vegas.

Gerry has amazed many big names with his impressive magic including the likes of Paolo Nutini, Girls Aloud, The Hoosiers, Judge Jools, Annie Mac, The Scratch Perverts and most recently Tulisa Contostavlos at the 2012 FHM Sexiest Women event in London.

He is regularly seen at extreme sport events with DC's and performing to some of the worlds biggest extreme sports names like Simon Tabron (5 times world vert BMX champion), Team DC's three top snowboarders, Devun Walsh, Iikka Backstrom & Lauri Heiskari. Gerry drives to establish himself as a progressive, fresh magician and gives a professional but younger look on magic that is appealing to the younger crowds and still intended to draw the older audiences in by developing a fresh look to old tricks as well as developing his own new exciting and fast moving routines.

Just some of the events where Gerry Simms has recently performed include: Bestival, London Sky Show, Winter Music Conference Week – Miami, V Festival, Goodwood, Relentless Boardmasters, Glastonbury, Unleashed Festival, EA launch of Skate 3, Urban Clothing Convention – Vegas, FHM Sexiest Women, Schuh store launches, Red Bull Air Race, Oakley store event, ASOS corporate party, One Piece corporate event, Snowbombing and Virgin Active Triathlon to name a few.
Video
Click below to watch video footage of Gerry Simms. To enquire further about Gerry Simms for corporate and private bookings, please click here or call us on +44 (0)1372 361 004.
Testimonials
Considering booking Gerry Simms for your event? You may find the following client testimonials and comments helpful. To enquire further about Gerry Simms for corporate and private bookings, click here or call us on +44 (0)1372 361 004.
We have worked with Gerry on various branded events for clients like Smirnoff, Strongbow and the Barclaycard British Summertime Festivals. He is fresh, cool and a million miles from the traditional suited rabbit-in-a-hat magicians of old. He is also a lovely guy, really accommodating to client requests and easy to work with
Gerry has continuously amazed me with his progression and talent. We have done many big scale projects together and every time Gerry has been an asset. It has been fun attending events such as Goodwood Festival of Speed, DC Shred Days in Meribel, Product launches on Oxford Street and many many more. He is always fun to hang out with and his skills are great to watch!
Gerry was a big hit. The guests really loved the evening. The highlight was almost certainly the hypnotism, which was stunning!