George Sampson
Street dancer - winner of Britain's Got Talent 2008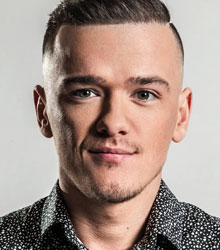 About
George Sampson won Britain's Got Talent aged just 14 with his talent for street dancing. He received a £100,000 prize and the opportunity to perform at the 2008 Royal Variety Performance in front of Prince Charles.

George's life has been filled with many struggles and reaching the Britain's Got Talent Final was no easy feat. Having come from a poor background, George had to dance on the streets of Warrington to raise money so he could afford to travel to the auditions of Britain's Got Talent.

George entered the competition in 2007 but failed to make it through the auditions as the judges believed he was too young. His ambition and enthusiasm for dancing did not end there and he entered again in 2008. His determination is even more evident by the fact that he suffers from a rare condition called Scheuermann's disease which affects developing bones and can cause curvature of the spine. George was also left temporarily blind by his condition which affected his balance and dancing. But his hard work and drive certainly paid off and at the end of a tense final, he was announced as the winner of Britain's Got Talent 2008.
You may also be interested in...