George Alagiah
Popular BBC newscaster (Six O'Clock News)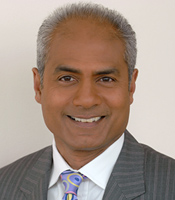 About
George Alagiah was born in Sri Lanka in November 1955. His primary education was in Ghana where his parents moved to in 1960. He attended secondary school at St John's College in Portsmouth, England and is a graduate of Durham, University.

He joined the BBC in 1989 after seven years in print journalism with South Magazine. George has also contributed to several British newspapers including The Guardian, The Daily Telegraph, The Independent and the Daily Express. He soon went on to become one of the BBC's leading foreign correspondents, recognised throughout the industry for his reporting on some of the most significant events of the last decade. He is a specialist on Africa and the developing world. Between 1994 and 1998 he was based in Johannesburg as the BBC's Africa Correspondent.

In 1998 George was voted Media Personality of the Year at the Ethnic Minority Media Awards. In 2000 he was part of the BBC team which collected a BAFTA award for its coverage of the Kosovo conflict. He has won several awards including: the Critics Award and the Golden Nymph Award at the Monte Carlo Television Festival (1992); award for Best International Report at the Royal Television Society (1993); commendation from the British Academy of Film and Television Arts (1993); Amnesty International's Best TV Journalist award (1994); the One World Broadcasting Trust award (1994); the James Cameron Memorial Trust award (1995); and the Bayeux Award for War Reporting (1996).

George Alagiah has reported on: trade in human organs in India; the murder of street children in Brazil; the civil war and famine in Somalia; the genocide in Rwanda and its aftermath; the plight of the marsh Arabs in southern Iraq; the civil wars in Afghanistan, Liberia and Sierra Leone; the Truth and Reconciliation Commission in South Africa; the fall of Mobutu Sese Seko in Zaire; the effects of Hurricane Mitch on Central America; the Kosovan refugee crisis; the NATO liberation of Pristina; the international intervention in East Timor; the farm invasions in Zimbabwe; the intifada in the West Bank and the aftermath of the terror attacks on New York.

Among prominent figures interviewed by George Alagiah are: Nelson Mandela; Archbishop Desmond Tutu; President Yoweri Museveni of Uganda; Kofi Annan of the United Nations; Yasser Arafat, President Robert Mugabe of Zimbabwe and Tariq Aziz of Iraq.

His first book, A Passage to Africa, was published by Little, Brown & Company in September 2001. It won the Madoc Award at the 2002 Hay Literary Festival. Alagiah's essay Shaking the Foundations has been published by the BBC in its book on the aftermath of September 11. George is married, has two sons and resides in north London.
You may also be interested in...