Gary Rhodes
Michelin-starred celebrity chef and restaurateur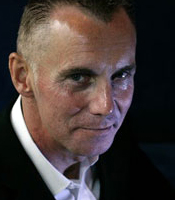 About
Gary Rhodes' legendary dedication to his craft and relentless pursuit of perfection has placed him firmly at the forefront of today's culinary world.

Chef, restaurateur, celebrity and author; his distinguished career, tireless attention to detail and unique mastery of the 'Great British Classics' truly sets him apart. Well-known as an ambassador for British cuisine, Gary has achieved what no other chef has previously managed to do: he has re-introduced the nation to its rich gastronomic heritage and uncovered a culinary culture to rival that of any other country in the world, collecting no less than SIX Michelin stars long the way!

Gary began experimenting in the kitchen as a teenager, preparing family meals whilst his mother was at work. His first major culinary achievement, at the age of 13, was a Sunday roast followed by a classic British dessert - Marguerite Patten's steamed lemon sponge pudding. One look at his family's delighted faces as they got stuck in was enough to convince him that a cook's life was the one for him.

After training at Thanet technical college, Gary realised that he would need to travel if he was to expand his techniques and fully develop his career. Europe at that time was producing the best hotel chefs and cuisine, and his first job was as commis chef at the Amsterdam Hilton. Here, he began to experiment with nouvelle cuisine and started to challenge preconceptions of food preparation. Success was swift and Gary went on to become the sous chef at the Reform Club, Pall Mall and then on to the Capital Hotel in Knightsbridge.

Eventually he became Head Chef at the Castle Hotel in Taunton, Somerset and this is where he really started to make a name for himself - he retained the hotel's Michelin Star, at just 26 years of age! It was during his time at the Castle Hotel that he developed the passion for British food that was to set the course for a hugely successful career, and ultimately it was where he discovered his talent for taking traditional dishes and refining them into new modern British classics. By 1990, when he joined the Greenhouse Restaurant in Mayfair as Head Chef, his reputation as one of the UK's leading culinary masters was well established. Here, he revived great classics such as faggots, fish cakes, braised oxtails and even bread and butter pudding. With free rein to explore British cuisine, he embarked upon a gastronomic journey of discovery, reinventing and rejuvenating old favourites to create a new and incredibly exciting food. Nobody was too surprised when, in January 1996, he won a Michelin Star for the Greenhouse - the restaurant's first, Gary's second.

The tremendous popularity of shows such as Rhodes Around Britain and Gary's Perfect Christmas have made him a household name. Gary has cooked on almost every continent for royalty, prime ministers, presidents and all the president's men! He has cooked on the QE2, he has cooked on the Orient Express. He has achieved many personal ambitions including cooking for, Princess Diana, the Jordan Formula One team, the British team at La Mans, and his beloved Manchester United. Amidst all the TV appearances, book signings and glitzy award ceremonies, there's one thing about Gary that you have to understand - what Gary likes best is to cook.

Gary is available for cooking demonstrations, awards hosting and live appearances.
Books and DVDs
Clients often ask about purchasing books for giveaways and delegate packs. Below you'll find a selection of products by Gary Rhodes. Click the images to view on Amazon's website. For bulk orders, please speak with your Booking Agent.
You may also be interested in...