Emma Forbes
Popular television and radio presenter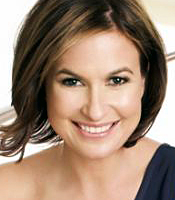 About
Emma Forbes is one of the nation's most loved broadcasters and personalities who first came to our screens presenting 'Going Live' for the BBC and then BAFTA award-winning programme 'Live and Kicking', which she co-hosted with Andi Peters. She also co-hosted 'Talking Telephone Numbers' with Phillip Schofield for primetime ITV, and 'Speakeasy' for LWT.

Emma most recently co-presented popular radio show 'Going Out with Alan Carr' every Saturday on BBC Radio 2. Emma has appeared on numerous television shows in the past few years, and demonstrated her culinary skills by impressively making it to the semi-finals of BBC1's 'Celebrity Masterchef'.

When Emma took a break from the industry to have her two children, she drew inspiration from them to create the boutique children's fantasy shop 'Semmalina', which then led to the spin off business of 'Star Bags' creating the perfect 'goody bags' for children's parties.

Emma's new venture, a magazine and lifestyle website, allows her to draw on all aspects of life and provides reviews, tips and news across everything from; parenting, interiors, food, travel, health and wellbeing.

She regularly hosts large charity events, corporate award dinners and is available for voiceover work.
You may also be interested in...