Ellen DeGeneres
World famous comedian and talk show host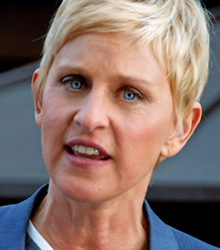 Copyright © Glenn Francis
About
Ellen DeGeneres is perhaps one of the best known and most loved comedians on TV. She became big as a stand-up before starring on her own sitcom, Ellen and has been the host of her own award-winning talk show, The Ellen DeGeneres Show, since 2003.

Ellen got her big debut in 1986 when, acting on a tip from Jay Leno, The Tonight Show starring Johnny Carson sent a booking agent to catch her act at the Improv in Hollywood. As a result of that engagement, DeGeneres was invited onto The Tonight Show and earned the distinction of being the only female comic to be invited by Johnny Carson to sit on the famed "couch" during her first visit. She then began making regular appearances on the talk show circuit, including performances on The Late Show with David Letterman, The Tonight Show with Jay Leno, The Oprah Winfrey Show, Later with Greg Kinnear, Larry King Live, and Good Morning, America. She was also profiled in detail on ABC's PrimeTime Live.

Her wit won over audiences, and DeGeneres finally found success as an actress with her own prime-time sitcom—the self-titled television series, Ellen. From that point, she enjoyed a dizzying evolution from its beginnings as an ensemble show to its development into a showcase for DeGeneres.

Ellen DeGeneres is a huge supporter of LGBT rights as well an activist for PETA. She has several times invited Humane Society of the United States CEO Wayne Pacelle to speak on her show about the organization's efforts in animal protection legislation and in 2009, PETA named her their Woman of the Year.
Books and DVDs
Below you'll find products by Ellen DeGeneres which may be available for purchase. Click the image to view on Amazon's website. Clients often like to purchase books and other merchandise as autographed give-aways at events where Ellen DeGeneres is appearing. For bulk purchases, please speak with the Booking Agent handling your event.
You may also be interested in...