Duncan Bannatyne OBE
Serial entrepreneur and former Dragons' Den investor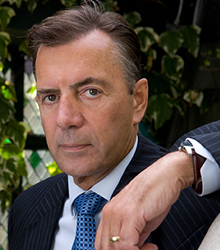 About
Duncan Bannatyne OBE is one of the UK's most successful 'serial' entrepreneurs with a fortune estimated in excess of £200 Million, who has created a portfolio of respected leisure businesses as well as carving out a high profile media career.

Outside of his business interests Duncan is best-known as a panellist on BBC2's Dragons' Den. His strong opinions and sharp comments to the programme's would-be entrepreneurs have made him one of the most popular Dragons in the Den.

He also appeared in ITV's philanthropic 'Million Pound Giveaway' (2007), Mind of A Millionaire (2003), a programme that investigated what drives successful entrepreneurs and gives them the will to win and 'Mind Your Own Business', produced for by the BBC, saw Duncan visiting unsuspecting small businesses and showing them the way to success.

Duncan Speaks from a wealth of experience. He started his life with nothing living in a council flat with six brothers and sisters. Business was forced onto his agenda when he was rejected for a paper round where he lived. He knocked on doors to find people who wanted newspapers delivered and persuaded the newsagent to give him his own round.

A spell in the Royal Navy as a stoker was brought to an unsuccessful end following an incident which ended up with Duncan being Court Marshalled for chucking his commanding officer over the side of an Aircraft Carrier for a £10 bet!

His successful businesses include Quality Care Homes Plc, which he started in 1986 with a £2 share capital and sold in 1996 for £46 million. Just Learning Ltd, which he started with £2 million and sold 5 years later for £22 million, he also took control of loss making Alpha Radio, made it profitable and then sold it to Border TV.

Awarded Master and Overall Entrepreneur of the year in 2003 Duncan is the founder and CEO of Bannatyne Fitness - the largest privately owned Health Club operator in the UK with over 100,000 members, as well as Bannatyne Hotels, Bar Bannatyne and Bannatyne Casinos.

Duncan Bannatyne was awarded the OBE by the Queen in 2004, for services to charity. His after-dinner talk is motivational and inspirational, centred around his personal success story.
Books and DVDs
Below you'll find products by Duncan Bannatyne OBE which may be available for purchase. Click the image to view on Amazon's website. Clients often like to purchase books and other merchandise as autographed give-aways at events where Duncan Bannatyne OBE is appearing. For bulk purchases, please speak with the Booking Agent handling your event.
Tags for Duncan Bannatyne OBE
You may also be interested in...