Dr Stephen Briers
Chartered clinical psychologist and TV presenter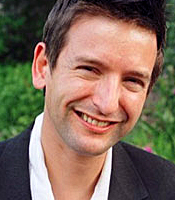 About
Dr Stephen Briers is a chartered clinical psychologist with over ten years experience working with a variety of mental health issues right across the age range. His clients have included parents struggling with their children's behavioural problems, teens wrestling with eating disorders, couples seeking to repair their relationships and adults coming to terms with severe traumas. He has a keen interest in the hidden forces that make us do the things we do and the dynamics that underpin the emotional drama of everyday life.

His wide-ranging expertise has been put to effective use in his role as on-screen expert in several successful BBC series including Little Angels and Teen Angels. Stephen has worked on Channel 4's primetime series Adopt Me, as well as appearing in Freaky Eaters for BBC3 and Wife Swap – The Aftermath for E4. Presenting highlights include Make Me a Grown Up for Channel 4 and The Ten Demandments for FIVE.

Dr Stephen Briers is a best-selling author of several popular psychology books including Superpowers for Parents and Brilliant CBT, an introductory guide to Cognitive Behavioural Therapy. At the moment he is busy working on a new book for Pearsons. Stephen writes regular contributions for newspapers and magazines, and previous commissions have included the Brain and Behaviour column for the Times Educational Supplement.

Stephen has recently held the position of resident Psychologist on the Shelagh Fogarty Show on Radio Five Live. He also undertakes public speaking engagements such as the keynote speech he will be giving to delegates at the UNITE CPHV annual conference later this year.
Books and DVDs
Clients often ask about purchasing books for giveaways and delegate packs. Below you'll find a selection of products by Dr Stephen Briers. Click the images to view on Amazon's website. For bulk orders, please speak with your Booking Agent.
Tags for Dr Stephen Briers
You may also be interested in...