Dr Rosemary Leonard
One of the UK's best-known media consultant doctors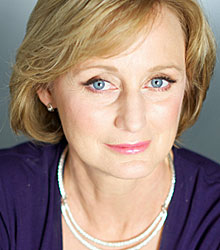 Copyright © Bill Waters
About
Dr Rosemary Leonard's work as a consultant to national television, radio and newspapers makes her one of the country's best-known doctors. She is the resident doctor on BBC Breakfast, and also writes a weekly page for the Daily Express and a weekly column in "S" magazine.

She is the medical editor and regular feature writer for Woman and Home magazine, and Tesco Healthy Living magazine. Her first book, "The Seven Ages of Woman", came out at the start of 2007. Rosemary was awarded an M.B.E. for her services to healthcare in the New Year's Honours List, 2004.

As a regular broadcaster, Dr. Rosemary Leonard's depth of knowledge and ability to put across complex matters without lapsing into medical jargon have led to a wide variety of television and radio work. She makes regular contributions to the news output of the BBC, both on TV and radio, and has also been the regular medical expert on The Wright Stuff, and the evening news on Five. She recently co-presented a medical series for Sky Real Lives called The Secret Guide to Women's Health. She has also co-presented Fighting Fit with the Eastenders, and Kick the Habit, on BBC1, as well as Why Me? and Call the Doctor on the Living Channel.

Rosemary Leonard is still very much a practising doctor, working as a part-time GP partner in a busy practice in South London, where she has a special interest in women's health. She has just completed five years as the GP representative on the Committee on Safety of Medicines, the national body licensing all medicines in the UK and has now been a member of the Human Genetics Commission for over a year. In 2008, Rosemary was appointed to the Board of the Health Protection Agency in the UK.

In view of her extensive experience, she is often asked to present medical corporate videos, and take part in PR activities for drug companies etc.

Rosemary Leonard trained in medicine at Cambridge University and St Thomas Hospital Medical School. She lives with her two sons and enjoys gardening, ski-ing, hiking, and sailing.
You may also be interested in...