Dr Costas Karageorghis
Sports and exercise psychologist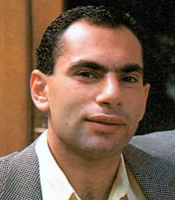 About
Dr Costas Karageorghis has an international reputation for his research into the psychophysical and ergogenic effects of music. He is the author of 50 peer-reviewed and 90 professional articles in sport and exercise psychology. Costas has made many conference presentations and given numerous invited presentations at national and international conferences, including keynote speeches. He has also delivered three public lectures in recent years. His music research has been featured in newspapers around the world; most recently in The Times, The Independent, The New York Times, The Wall Street Journal, The Washington Post and The Sydney Morning Herald.

Costas Karageorghis has completed a number of industrial projects that include work with Nike Inc. on the Portable Sport Audio MP3 player, Sony UK on the W series of sport MP3 headphones, Bio-Medical Research Ltd. (Ireland) on the Mentor behavioural screening programme and David Lloyd Leisure Ltd on the development of a music policy for their chain of health clubs. He was principal author of the recent British Association of Sport and Exercise Sciences' (BASES) national expert statement on the use of music in exercise.

From 2007-10 Costas led a large-scale consultancy project with the International Management Group (IMG) that entailed coordinating live music with mass participation running events – Run to the Beat. He made scientific contributions and served as a media spokesperson for several events in the UK and across mainland Europe. He is currently working with three NHS trusts in Greater London on coordinating physiotherapy and stroke rehabilitation programmes with age-congruent music: The Music-in-Rehab Project.

Dr Costas Karageorghis is a chartered member of the British Psychological Society and a double-accredited member of BASES (psychology research and scientific support). In September 2010 he was elected a Fellow of BASES for his services to sport and exercise sciences in the UK. Costas acts as consultant psychologist to a number of international and professional athletes and has worked with a wide variety of UK governing bodies of sport (e.g. UK Athletics, British Canoe Union, British Water Ski Federation and England Hockey).

Costas has worked extensively with the music industry to release a number of sport and exercise-related compilations including the bestselling Run to the Beat CD and Ministry of Sound: Run to the Beat 2010. He recently completed a textbook entitled Inside Sport Psychology (Human Kinetics 2011) that is co-authored by Prof Peter Terry (University of Southern Queensland). This is the first book to cover music-related psychological interventions in sport.

Dr Costas Karageorghis contributed three chapters to the text Sporting Sounds: Relationships Between Sport and Music (Routledge 2009) as well as chapters in Sport and Exercise Psychology (Hodder Education 2008) and New Sport and Exercise Psychology Companion (Fitness Information Technology 2011). In his spare time, Costas enjoys playing the piano and often performs in a jazz trio with vocalist Ruby Lee Ryder and trumpeter John Buckley.
Tags for Dr Costas Karageorghis
You may also be interested in...