Doug Richard
Former Dragons' Den investor, technology visionary and creator of businesses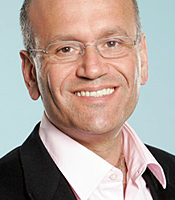 About
Doug Richard is the founder and Chairman of Library House and has more than 18 years experience in the development and leadership of technology and software ventures, both in the US and in the UK. In addition to his Library House involvement, he is founder and partner of Automatic Capital LLP and founder and vice-chairman of Cambridge Angels. Previously, he was vice president and later president and CEO of US publicly quoted software company Micrografx with offices in 11 countries which he sold to Corel Corporation in 2000.

Prior to Micrografx Doug Richard was the founder and CEO of Visual software which was set up with the mission of bringing high-end 3D technology to the PC market in the form of creativity and productivity applications. After five years Visual Software was sold to Micrografx in 1996.

Before Visual Software he was the founder of ITAL Computers that provided CAD/CAM systems integration services to the southern California aerospace industry. ITAL Computers was sold in a private transaction in 1991 and proceeds used to found Visual Software. Doug has a BA in psychology from University of California at Berkeley and a Juris Doctor from the School of Law, University of California at Los Angeles (UCLA) and an Executive Management Certificate from the UCLA Anderson School of Business.

Doug Richard appeared in the first two series of BBC2's popular business entrepreneurial show 'Dragons' Den'. Doug has extensive experience as an entrepreneur, technology visionary and creator of businesses both in the US and Europe.
Speech Topics
Doug Richard's popular keynote speech themes include:-
- The successful entrepreneur
- How to build a business that lasts
- The future is a Teenage Girl in Tokyo
Books and DVDs
Below you'll find products by Doug Richard which may be available for purchase. Click the image to view on Amazon's website. Clients often like to purchase books and other merchandise as autographed give-aways at events where Doug Richard is appearing. For bulk purchases, please speak with the Booking Agent handling your event.
You may also be interested in...