Dionne Warwick
International music legend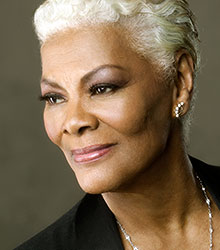 About
Dionne Warwick has, over an illustrious four-decade career, established herself as an international musical legend.

Her reputation as a hit maker has been firmly etched into public consciousness, thanks to nearly sixty charted hits since "Don't Make Me Over" began its climb up the charts in December 1962. As a performer, she has charmed and entertained audiences on every continent, amassing a worldwide audience.

Dionne's status as a musical icon and humanitarian is legendary. With her own star on the Hollywood Walk of Fame, she continues to work tirelessly with various organizations dedicated to empowering and inspiring others. In 1997 she was awarded the "Luminary Award" by the American Society of Young Musicians. That same year she joined General Colin Powell in celebrating the tenth anniversary of the "Best Friends" Program, an abstinence and character-building program for young women.

Dionne Warwick is a highly sought-after headlining act for festivals as well as corporate and private functions.
You may also be interested in...