Di Dougherty
Television presenter and reporter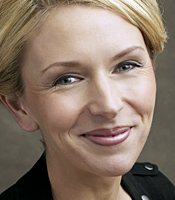 About
Di Dougherty's (née Stewart) television career has spanned more than a decade, with her first TV presenting role on Sky Sports News back in 2005. She has become a familiar and much-loved face on the channel, conducting live sporting interviews across a variety of sports on a daily basis. Her move across to the golf department a few years later gave her the opportunity to cover European Tour, PGA Tour events and Major Championships; presenting, live reporting and hosting all around the world.

Di was the front-woman for 'Golf Night' and more recently presents every Saturday morning on 'Game Changers' with co-host Darren Campbell. Recent highlights from Di's career were presenting the Opening and Closing Ceremonies of the Ryder Cup at Gleneagles in 2014 and at Celtic Manor in 2010 in front of an audience of over 100 million. Di is also a freelance reporter for the Golf Channel, conducting player interviews in Europe, live reports and co-hosting their breakfast show 'Morning Drive' from Florida for a week.

Di is also privileged to officiate as Mistress of Ceremonies at the Goldie Hawn Foundation annual event in London (2013-15), is a brand ambassador for Lynx, hosts the Boodles annual tennis at Stoke Park and is host for the Sky Academy Sports Scholarship presentations.

She is in-demand as a corporate event host and conference MC, working for companies like Vodafone, Waitrose, M&C Saatchi, Boodles, John Lewis, o2 and the charity Sparks on their high-profile dinners and awards ceremonies.

Di is passionate about the difference that sport can make to the next generation and is a highly skilled sportswoman herself, having been a member of Cheshire Girls' and Cheshire Ladies' golf teams and still playing regularly.

She is also a passionate tennis player and swimmer.
Testimonials
Di Dougherty was an absolute joy to work with at our event this summer. Di was interviewing the players and then out on court wowing the ever-expectant crowds! Throughout the entire event her exquisite presenting skills and wonderful personality shone through, much to the delight of the Boodles guests.
We had the pleasure of working with Di Dougherty on our annual event in London where she officiated as Mistress of Ceremonies. She is a pro, easy to work with and more importantly, flawlessly executed her role. Di is incredibly talented, charismatic, professional, funny and terrific at engaging the crowd and moving the evening forward. Di's natural ability as a reporter, serves her well. She is relatable, reliable and we hope to work with her again and again on a number of different initiatives!
Di Dougherty was super professional as ever when hosting our Ballantine's Golf event with Ian Poulter at the Scottish Open at Royal Aberdeen. She has a natural ability to make people relaxed in her company and as a result gets the best out of the people she interviews. Her understanding of what sponsors require too makes Di a real asset to any brand event.
You may also be interested in...