Des O'Connor
Chat show host and one of Britain's best-loved entertainers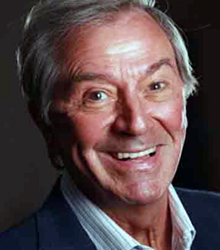 About
Des O'Connor is one of Britain's most popular and best-loved entertainers. An outstanding star of television, theatre, concerts and cabaret. Des has endeared himself to audiences everywhere with his unique style of entertaining, his personality, charm and sheer talent. And he as become one of only a handful of British stars to be acclaimed internationally, particularly in Australia, Canada and America.

Des O'Connor Tonight was one of the most popular series on television, established high in the TV viewing charts and it has elevated it's star to a unique position in show business. Because of Des' policy of introducing American entertainers to British audiences throughout the series, top-line US stars queued up to appear on the show, such is Des O'Connor's prestige and the reputation of the show in the States.

Since landing his first television series in the UK in 1963 he has starred in his own mainstream television show for over 45 years – longer than anyone anywhere in the world.

Des O'Connor has made over 1,000 performances at the London Palladium and starred in Cabaret theatre and sell-out concerts at almost every leading venue throughout the world, including the MGM grand Hotel, Las Vegas, the Opera House, Sydney, the Concert hall, Auckland; the O'Keefe Centre, Toronto, and the Arts Centre Ottawa.
You may also be interested in...