Rt Hon David Milliband
Former Labour politician and former UK Foreign Secretary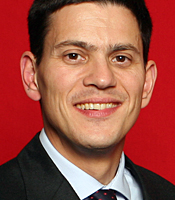 About
David Miliband has played a leading role in British politics for the past 15 years. According to Wikileaks, the American Embassy in London in 2009 believed that he provided rare moments of star power for a Labour Party lacking in charisma after the departure of Prime Minister Tony Blair.

David Milliband was the UK's Foreign Secretary from 2007 to 2010. Aged 41, he became the youngest person in 30 years to hold the position. He was responsible for a global network of 16000 diplomats in over 160 countries. He established a distinctive and respected voice for an internationalist Britain, from the war in Afghanistan to the Iranian nuclear programme to engagement with the world's emerging powers.

David's advocacy of a global role for a strong European foreign policy led to him being widely supported for the new job of EU High Representative for Foreign Affairs – a position he declined to continue his work in Britain.

David believes in leadership through ideas. He first came to prominence as the Policy Director for Tony Blair from 1994 to 2001, authoring the manifestos on which Labour was elected to office. As Minister for Schools from 2002 to 2004 he was regarded as a leader of reform. As Secretary of State for the Environment, he pioneered the world's first legally binding emissions reductions Bill.

As Minister for Communities and Local Government, he championed the renaissance of Britain's great cities. David recently set up "Movement for Change", which is training 10,000 community organisers in the UK over the next few years to make changes in their own communities.

He is Vice Chairman of Sunderland Football Club. He also regularly lectures at MIT, and co-participates in a series of seminars with Condoleezza Rice at Stanford University – debating the great geopolitical issues.

After graduating with first class honours in Philosophy, Politics and Economics from Oxford University, David Milliband completed a Master's Degree at MIT as a Kennedy Scholar. He is currently Member of Parliament for South Shields in the North East of England.
Testimonials
...you eloquently teased out the cathartic and frustrated emotions and opinions of a profession on the back foot in a refreshingly constructive way. It was brilliant to have an impartial chairman like yourself, and you made a very difficult task look simple.
Mike Baker connected perfectly with the audience and made the whole day appear seamless.
Mike Baker is a excellent conference chair. He is extremely knowledgeable and ensures everyone is able to enjoy the event to its full potential. As conference chair he is a vital part of a successful event, drawing on his superb journalistic experience, and we always know it will be a good day if he is in charge. Mike inspires confidence in speakers and really engages the audience. He ensures speakers and delegates are getting the most out of an event.
Tags for Rt Hon David Milliband
You may also be interested in...