David Lewis
Professional cartoonist and caricaturist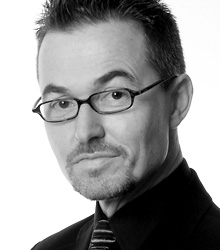 About
David Lewis is a professional Cartoonist and Caricaturist, with fifteen years of experience within the corporate sector. Based in London, he was also a designer/cartoon artist for ITV's award-winning animated topical satire 2DTV.

David graduated from St. John's College, Oxford University with a First in English Literature in 1989. Since then, he has become one of London's most successful corporate entertainers and has also built up a broad portfolio of cartooning work, specialising in the business sector.

David illustrates for a broad range of clients. His work includes portraiture, book and magazine illustration, Christmas cards, advertising commissions and corporate gifts. His work has been published in The Beano, The Sunday Times and The Daily Mirror. His other television credits include CBBC, Jack Dee's Happy Hour and Wogan's Web.

His many satisfied clients include Her Majesty the Queen (for her 80th birthday celebrations), Richard Branson, Bruce Forsyth, the Economist magazine and many large corporations ranging from Goldman Sachs to Vodafone. He has recently been involved in many corporate brainstorming workshops including for British Aerospace and the Department of Health.

In the course of his career David has drawn approximately one hundred thousand guests at parties, exhibitions, functions and trade shows. His work has spanned four continents: from Detroit to Jaipur, from Manchester to Marrakech.
Testimonials
Considering booking David Lewis for your event? You may find the following client testimonials and comments helpful. To enquire further about David Lewis for corporate and private bookings, click here or call us on +44 (0)1372 361 004.
David Lewis was totally charming and a consummate professional. He was cheerful, funny and everyone loved him and his work. It really made the party. Thank you also for recommending Charles Burns. He too was a superb addition to our party and together they were the making of it. I cannot thank you enough for this wonderful suggestion. I will be turning to you next year for more new an innovative ideas – so get your thinking cap on!
You may also be interested in...