Darren Jordon
British journalist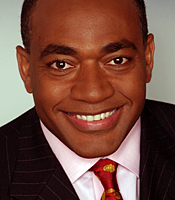 About
Darren Jordon presents the BBC's One O'Clock, and weekend news bulletins on BBC1. He was previously the weekend presenter for Breakfast, on BBC1 and BBC News 24. Darren's current role brings him back to the One O'Clock News -- he served as the Special Reporter for the bulletin prior to his appointment to Breakfast news in 2001.

Darren was educated in the West Indies and at the Royal Military Academy Sandhurst, in England. He spent eight years in the Jamaican army, where he served in the Infantry, and was an accomplished Military Freefall and Sport parachutist. He saw active service during the invasion of the Caribbean Island of Grenada in 1983, retiring his commission as a Captain 4 years later. Upon leaving the army, Darren embarked on career in TV advertising sales, and was a successful group sales manager for Yorkshire TV, London Weekend TV, Granada, and MNET TV in South Africa.

His career in journalism began as a sports broadcaster in South Africa in 1995. Darren joined BBC Sport as a broadcast journalist in 1998, as part of the BBC News 24 Sport team. Additionally he was one of the main sports presenters on BBC World. In May 1999 he made the switch to TV News, and became a news presenter on BBC News 24. He also worked on BBC World, where he anchored many international world news events.

Darren has also presented location reports for the BBC's Holiday programme, and has reported from Jamaica, Turkey, Cyprus, the USA and Dubai. He was also a reporter for the BBC's current affairs programme 4x4.
You may also be interested in...