Danny Dyer
Actor and television personality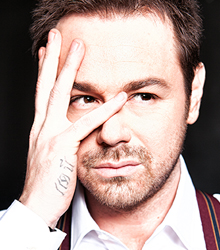 About
Danny Dyer has become one of the most recognised London actors in the country, epitomising all that is best in English acting. Popular as a guest all-manner of corproate and private functions, from a celebrity appearance at a public event to hosting a lavish corporate awards dinner, Danny's unique charm and enthusiasm will add punch and flair to any occasion.

Born in Canning Town, East London, Danny had a fairly typical East End upbringing, and would probably never have considered acting if an agent who auditioned him for the part of Martin Fletcher in the acclaimed TV series Prime Suspect hadn't spotted him at the north London drama group. At the age of 14 he was given the part and found himself working along side Dame Helen Mirren.

Danny subsequently appeared in a variety of television productions including Cadfael, A Touch of Frost and Loved Up. After a short quiet spell he emerged in two notable performances; firstly as Alec in Central Television's Thief Takers, and then twice as Gary Fox in Carlton's award winning series Soldier Soldier.

Danny is also a seasoned theatre actor, treading the boards in both London and New York in a number of high-profile productions, including Harold Pinter's No Man's Land and Peter Gill's Certain Young Men. His first major film breakthrough came with his role as 'Moff' in Human Traffic (1999). Danny starred in Andrea Arnold's Oscar Winning short film called Wasp alongside Nathalie Press (2003). He caught the eye of critically acclaimed British director Nick Love and stared in four of his films including Goodbye Charlie Bright (2001), The Football Factory (2004), The Business (2005) and Outlaw (2007) alongside Sean Bean and Rupert Friend. 2007 also saw the release of several high profile movies; The All Together, Severance and Straightheads, with major television roles in Hotel Babylon and Skins.

Danny's performance in Devil's Playground (2010) earned him the Best Actor Award at Britain's 2010 Horror Film Festival. Danny then went on to do independent film, Malice in Wonderland (2010) for which The Sunday Times newspaper applauded his performance. In 2011 Danny was cast in Basement, where he played a more vulnerable character opposite Jimi Mistry of East is East fame. He then went on to star in Age of Heroes, an Ian Fleming true story, opposite Sean Bean and James D'Arcy. 2012 saw him take on a career-defining role as Frankie in high suspense thriller Deviation starring alongside Anna Walton and the lead role in theatre's master of farce Ray Cooney's Run For Your Wife.

In 2013, GQ magazine wrote of Danny that his "career trajectory can be likened to Sir Michael Caine's" and predicted that he would soon be recognised as "a national treasure." Later that year, Danny made an appearance in ITV2's award winning comedy Plebs and as Jimmy Vickers in Vendetta, which packed cinemas and was one of the best selling DVDs that Christmas.

December 2013 saw Danny's arrival in EastEnders as Mick Carter; reaching nearly 8 million viewers, he drew in a whole new fan base with his show stopping turn as the new landlord of The Queen Vic. Danny continues to make big screen movies as he works on EastEnders, where he is fast becoming one of the most popular characters in the show's history. Nominated for Sexiest Male in the British Soap Awards and winning Best Actor at the TV Choice Awards.
You may also be interested in...