Craig Hill
Scottish camp comedian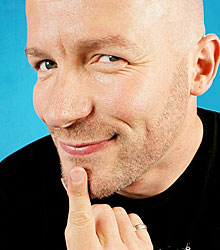 About
Craig Hill is Scotland's brightest comedy star. Cheeky, irreverent and, of course, wonderfully camp, his hilarious blend of incisive stand-up, fabulous musical characterisations and improvisation has earned him rave reviews. He is one of those rare natural performers, with an seemingly effortless audience rapport. Craig's warm and contagious personality, glorious comic timing and technically brilliant vocalisations all combine to bring a sense of joy to his performance.

Craig's superb ability to entertain - and charm - any audience, on any occasion, has established his popularity and excellent reputation in the corporate entertainment market. He regularly comperes and headlines at venues across Britain as well as touring his solo shows nationally and internationally.

Craig Hill's first public success came at age ten when he won a local talent contest in his native East Kilbride, impersonating the biggest divas of the day. He never looked back, going on to enter dance contests, write songs, sing in local bands – and eventually train as a hairdresser.

In 1991 Craig moved to Edinburgh in order to study Drama at Queen Margaret College, graduating in 1994. His comedy characters as well as his ability to improvise and write material led him naturally, but not directly, into stand-up. He was still an actor, working in Theatre In Education and pantomimes when a friend secretly booked him in for an 'open spot' in 1998. So terrified that he had to be shoved on stage, it was his first ever stand-up comedy performance. The audience absolutely loved it – and so did he. Craig was hooked.

Shortly thereafter he was first runner-up in the Comedy Store's Stand Up For Hooch Competition; appeared on BBC Radio Scotland's 'Velvet Cabaret' and featured on popular BBC's radio showcase 'Usual Suspects' during the Edinburgh Festival Fringe. Channel 4's 'Edinburgh or Bust' filmed his progress on "So You Think You're Funny" new-talent contest.

The following year, Craig's first solo show, 'Craig Hill's Alive With The Sound Of Music', took the Edinburgh Festival Fringe by storm, selling out to rave reviews and cementing his reputation as a versatile and unique comic talent. His cheeky look at the world of musicals, pop music and pop icons included parodies of Shirley Bassey singing football chant 'Who Ate All the Pies?' and Julie Andrews doing 'Gangsta's Paradise' in her inimitable style.

His international work includes Montreal's Just For Laughs Festival 2008-09 where he hosted the prestigious Britcom series as well as Bubbling With Laughter and shows in Toronto, Paris, Madrid, Barcelona, Melbourne, Sydney, New York, Singapore, Amsterdam, Brussels, Ghent and Athens.
Testimonials
Craig was really enthusiastic, keen to work with us to create the best event possible and never less than professional. He gave us some great ideas which really improved the event, and the audience really liked his irreverent, larger-than-life persona. We loved working with Craig, and wouldn't hesitate to work with him again.
We absolutely loved having Craig as our host – he was amazing to work with and really keen to get all the details correct. Please pass on a huge amount of thanks from all of us to Craig and from me particularly for being such a star. I wouldn't hesitate in recommending him to anyone as a corporate host.
You may also be interested in...