Collabro
Musical harmony group - Britain's Got Talent 2014 winners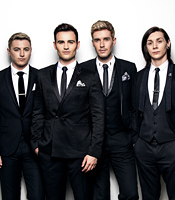 About
Since winning Britain's Got Talent, Collabro's diary has been a whirlwind of Touring, recording studios, TV appearances & International travel! The four-piece musical theatre group swept to victory on the ITV reality show in June 2014 and won the show as well as a much-coveted slot on The Royal Variety Show.

The band went on to sign with Simon Cowell's Syco Music & their career has gone from strength to strength here in the UK & Internationally.

They released their debut album 'Stars' which smashed in to the no.1 spot and at the time was the fastest selling album for a debut act. A Christmas released special edition of 'Stars' followed to further their domination of the charts.
A sell-out 32 date UK tour started at the beginning of 2015, which saw the band play in prestigious venues such at The London Palladium and perform to over 55,000 people!! They did the same again in early 2016 with a sell-out date London's Royal Albert Hall.

Their third album 'Home' was released in March 2017, peaking at Number 7 in the Official UK Charts and making it their 3rd top-10 album.

Collabro have played shows in America, Japan & Hong Kong, where they have been greatly received with great demand for future shows.

The band - Michael Auger, Jamie Lambert, Matt Pagan and Tom Redgrave - first got together in a north London pub. Just five months after meeting for the first time, Collabro won Britain's Got Talent, and the rest, as they say, is history!
You may also be interested in...