Carol Decker (T'Pau)
80s pop star (China in Your Hands, Heart & Soul)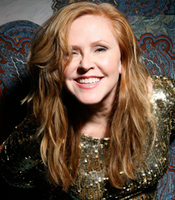 About
Carol Decker first appeared on the scene in 1987, fronting the successful pop/rock band T'pau. Instantly memorable with a huge voice and a mass of red hair, Carol made an undeniable impact on the public. The first album, Bridge Of Spies went quadruple platinum.

Spawning a string of worldwide hits, including Heart & Soul, which stayed on the U.S billboard chart for 6 months, peaking at No 4 and of course most notably China In Your Hand, which occupied the No1 slot in the UK for 5 weeks. Platinum album Rage & The Promise followed adding to the band's global success.

T'pau toured continuously with the likes of Bryan Adams & Nik Kershaw eventually selling out their own arena shows such as Wembley & The NEC .

The original line up split in 1991. Carol has continued to tour & record. Branching out into acting she has appeared in the BBC daytime series 'Doctors'. Children's TV series 'Star' with Nicholas Hoult. She has also acted on the West End stage in 'Mum's The Word' with Imogen Stubbs, Patsy Palmer, Jennie Eclair and Cathy Tyson.

A popular and frequent guest on TV & Radio, Carol has appeared on prime time TV Shows such as Hit Me Baby One More Time and Just The Two Of Us. Radio Two's 'Jammin' with Roland Rivron & The Jonathan Ross & Ken Bruce radio shows.
Video
Click below to watch video footage of Carol Decker (T'Pau). To enquire further about Carol Decker (T'Pau) for corporate and private bookings, please click here or call us on +44 (0)1372 361 004.
Books and DVDs
Below you'll find products by Carol Decker (T'Pau) which may be available for purchase. Click the image to view on Amazon's website. Clients often like to purchase books and other merchandise as autographed give-aways at events where Carol Decker (T'Pau) is appearing. For bulk purchases, please speak with the Booking Agent handling your event.
You may also be interested in...