Brix Smith-Start
Fashion guru, TV presenter, business woman and former band member of The Bangles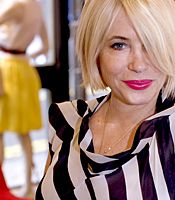 About
Fashion guru, Brix Smith-Start was born in Los Angeles, California and began her career in the legendary post-punk British band The Fall in 1983 as a guitarist/singer/songwriter, first appearing on the "Perverted by Language" album, and going on to record and release numerous albums with them. She left them temporarily before re-joining to record the hit albums "Cerebal Caustic" and "The Light User Syndrome" before finally leaving for good in 1996.

Brix went on to release two solo albums under the name "The Adult Net". After leaving The Fall and disbanding The Adult Net, Brix went on to tour with The Bangles! Soon after she released the "Happy Unbirthday" EP on "Strangelove", which is a collaboration with Marty Willson-Piper and includes a cover of David Bowie's "Space Oddity".

Multi-talented Brix Smith-Start has since gone on to pursue a career in presenting and most notably, fashion. Having launched her first boutique 'Start' with her husband Philip in 2002, they have pretty much taken over Rivington Street in East London, with 4 fabulous boutiques and an online store.

The Start stores are A-list boutiques, loved by the elite of the media and fashion and are considered to be amongst the best stores in the world. With huge designer labels such as Mulberry, See by Chloe, Philip Lim and so many more, Brix has worked hard to bring fashion for everyone.

The fashionista and stylist has become one of the most recognizable faces in fashion having worked on all three series of C4's runaway smash 'Gok's Fashion Fix' pitting her high end outfits against the bespectacled stylist's high street picks. Numerous television appearances include an episode of BBC's 'The Culture Show' presenting a piece on Andy Warhol and his impact on the fashion world, and regular appearances on LK Today's 'What's Hot and What's Not' segment plus 'Angela and Friends' to name a few.

Brix has just been seen gracing our screens in the exciting hit six part series 'Promzillas' for Sky Living. A multiple makeover show that sees the characters and the proms themselves being made over by a team of celebrity stylists known as the 'prom squad'. It explores the extreme and colourful world of proms and provide a snapshot of modern British teenagers (and their parents) at a crucial time in their lives. Brix makes up a third of the 'Prom Squad' alongside make-up artist Gary Cockerill and celebrity hairdresser Stephen Glendenning. Surprisingly for Brix this isn't all about designer names, it's about the sparkle, spangle and looking simply fabulous for the biggest day in a teenagers life.

Brix Smith-Start kicked off 2011 by hosting exclusive coverage for SKY of 'The Golden Globe Awards' and the 'Oscars' talking through the highs and lows of the red carpet fashion parade and conducting live interviews yet again demonstrating her ease and aptitude for live television. She followed this with BBC's Radio 1 Big Weekend celebrating Lady Gaga's status as a fashion icon.

Brix can currently be seen handing out valuable fashion tips on ITV's 'This Morning' as their resident fashion expert showing members of the public how to work with what they have in terms of budget, body shape and personality.

A regular key contributor to both Elle and Grazia magazines, Brix Smith-Start has worked on and fronted numerous campaigns working with Google Street View Awards, IsMe.com, Scholl, Thompsons Holidays, Special K, Selfridges, Lastminute.com, Tia Maria, Triumph and The Lowry.
Tags for Brix Smith-Start
You may also be interested in...